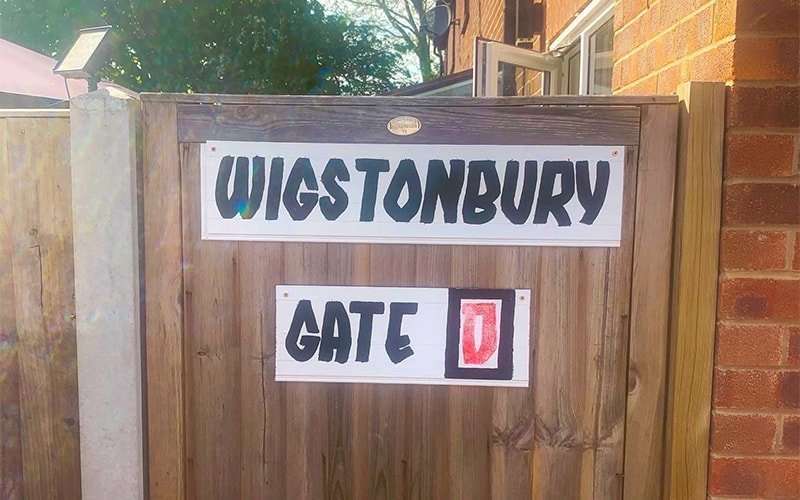 My Gla- stay at home -bury family festival
I had always wanted to go to Glastonbury but had never done anything about it. Then, back in 2009 I met a guy called Paul through work. It was a Christmas do where we got talking and discovered we both shared a mutual love for music. Paul told me he was lucky enough to get a ticket for Glastonbury 2010 and obviously, I was amazed and extremely jealous at the same time. Over the next six months, our friendship blossomed and true "bromance" was formed. Paul went to Glasto in 2010 and had a great time, it was then decided that when the ticket sale for Glastonbury 2011 came up I would also try. As anyone who has tried for the "golden ticket" knows, the first Sunday in October is the most hotly anticipated nerve-racking experience one could go through (and that's coming from someone who has twice become a father).
Long story short, someone managed to bag us tickets for the 2011 Festival. Our little Glasto squad consisted of myself, Paul, Phil and Gus. It wasn't until the Tuesday morning of setting off to join the Tuesday-night-queue that I first met Phil and Gus – we all thankfully hit it off from the get-go. Now, 2011 was a wet one but some of my everlasting favourable memories entail us heading to the hill behind The Park Stage and sitting down just below the Glastonbury Sign – after pitching tents, establishing camp and grabbing a bite to eat, of course. The sun began to set and as we all well know, one gets a real feel for how massive the site really is from that viewpoint, especially at the night! It is breathtaking.
On returning home, I come to acceptance with myself – to my wife's dismay – that "I need to do this every year from here on out". For me, Glastonbury has been my "week off" a year. It's quite a selfish thing in that I have never included the family in it. In the early days, I had a young one, and in 2012 I became farther of 2, with another son joining the family. So for me, it is somewhat of a selfish escape, but both sons have grown up knowing Glastonbury is "dad's thing". One day we will definitely go as a family, but – if I'm honest and somewhat selfish (again) – I'd rather the kids be a bit older (and require less attention) before that happens, as it's hard enough getting myself through a Glasto week as it is.
Since 2011 I have been lucky enough to attend every Glastonbury Festival (I know right! How lucky). Along the way, I have met some amazing people some of which have become like family to me, and we have an amazing group which just gets even more amazing with each Glasto-year. Throughout my Glasto life, I have had 2 constants in Paul and Phil who have become two of the best mates anyone could wish for, in fact, it's no exaggeration by saying they have both been lifesavers in the last few years.
For probably the last 5 years I have struggled with my mental health, dealing with depression and most recently anxiety. The whole Glasto thing has been great at helping me deal with it. Whether it's having something to focus on and look forward to, or putting me in touch with people that have helped me get through the rough times. Midway through 2019, I was struck down with depression and anxiety which took me to a very dark place and by the time ticket sales day came round I was at my lowest point. I didn't want to connect or contact my surroundings, I struggled to leave the house and wouldn't talk to anyone. I was barely existing, let alone living. My amazing friends took it upon themselves to get me a ticket regardless – which if left to me, I would have just gone without.
Now come to the start of 2020 and mentally I was getting myself sorted and had begun working for myself as a self-employed kitchen fitter. I was starting to look forward again to the future and we returned to making plans as a family again – festivals were going to feature heavily for all of us. I was set to make my usual pilgrimage to Glastonbury, in addition to us all going to our first festival as a family. It was going to be great.
Then, COVID-19  struck and very quickly everything changed. All of a sudden I was unable to work and because of going self-employed very recently I am unfortunately unable to claim from any of these Schemes set up by the government. I went from provider to homeschooler! Every day my amazing wife goes to work for the NHS at the local GP surgery whilst us boys battle with homeschooling and finding something cool to watch on YouTube. So, like most, our lives had changed dramatically and become very surreal and stressful.
With so much uncertainty it's hard to focus on or look forward to anything. Added to this situation about 8 weeks ago I started a cycle of episodic cluster headaches. Without going into too much detail, every one to two years I suffer for around 6 weeks with the most painful headaches imaginable. The pain is indescribable, it basically brings me to my knees screaming with agony, this can last from ten minutes up to 3 hours – this had made day to day life pretty difficult.
I've gone from being Dad and provider to out of work and in constant worry of suffering a headache. Both boys and Nat have been brilliant during this time. It would have been near impossible to get through it on my own. About a week ago as quickly as they started, the headaches ended and for the first time, we could plan for the next day.
Like many others at the moment, we lack having something to get up for together as a family. Nat gets up to go work, the kids get up to home-school but there hasn't been anything to get up for and look forward to together as a family. It's amazing the things that we quickly realise we have taken for granted during this time.
I was sat out in the garden one evening when it hit me, why not hold our own family festival at home in our garden. I put it forward to the family who were on board straight away. That's when 'Wigstonbury' was born (we live in Wigston Leicester) – This was something we could pull together as a family that would hopefully produce something fun at the end of it.
So whilst Nat was at work, me Healy and Evan started work on the signs which we are all very pleased with. We cleared the garden (again) and started putting the playlist together all picking out artists we would like to hear from.
I then decided to post on Twitter to see if we could inspire others to create their own festival. It's now the day after and the support has been fantastic. Over the various platforms, we have gathered over 600 'likes', a local micropub called The Real Ale Classroom kindly supplied us with beer for the day. The 'likes' have come from all over the globe – such is Glastonbury's reach.
We have even had posts 'liked' by artists such as Fat Boy Slim, Graeme Park, and The fantastic Self Esteem – who actually chose her 3 songs for us! The highlight for us as a family though was Django Django liking a tweet – as a family, we listen to The Djangos an awful lot, they are our go-to artist for any car journey we embark on as a family.
The look on Healy's face when he spotted the like was priceless and one as parents we will never forget. The whole day was brilliant the weather was amazing we all had a blast including Tally the dog. Yet again the Glasto-spirit had come to the rescue helping us through these crazy times. This was our first Wigstonbury, I don't think it will be our last.