Glastonbury camping tests • Credit: Collette Warren
A detailed breakdown of campsites and fields to help you make the right decision on where is the best place to camp at Glastonbury Festival
Last updated: 10 March 2023
Ok, so before we delve into all the camping sites which are on offer (detailed below), let us just say that choosing the right camping field is one of THE MOST important decisions you'll be making when it comes to Glastonbury Festival.
Each campsite has its pluses and minuses and every person has their varied wants and needs – it's not a "one size fits all" scenario.
For this reason, it is imperative you do your homework in advance and is well worth giving this subject some serious thought before embarking on your Glastonbury journey – rather than leaving things to chance while hoping it all works out when you get to those glorious Glasto gates.
The Festival site covers an area of approximately 1,100 acres, with a perimeter that runs an astounding 8.5 miles and has ample green grassy spots on offer (which with any luck won't become mud patches due to a typically anticipated rainstorm on the Thursday morning).
Your Glastonbury Festival ticket price includes access to all the camping fields, which basically means you can choose to pitch your tent anywhere within the designated camping zones that reside throughout the Festival fields – spanning all the way from right next to the Pyramid Stage, to more tranquil areas on the outskirts of the Festival.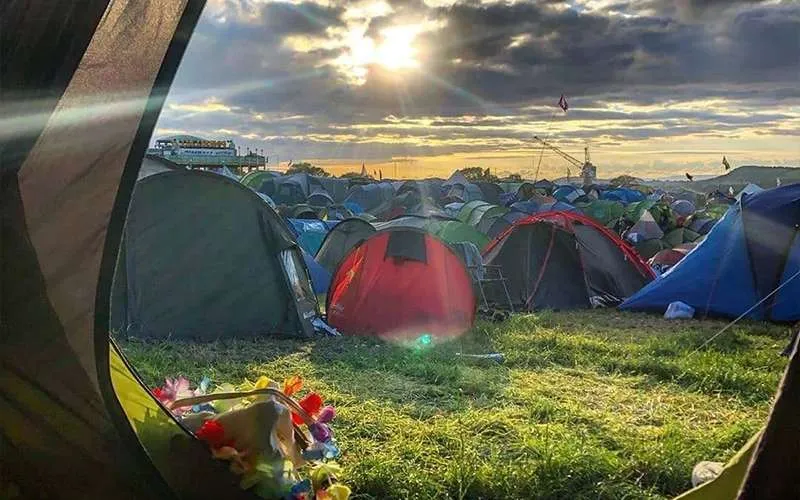 Each camping field has a different atmosphere and vibe – while some would prefer to have a quiet night's sleep, others care more about being close to their favourite stage or specific area.
Remember that your choice may also be limited depending on which pedestrian gate you first enter the site through, and how far you're willing to "leg-it" to your campsite of choice once you get in.
Also, take into construction that belated arrivals will find a significantly diminished choice of fields that still contain available camping space.
Unless your altruistic mates are saving you a spot, arriving on the Wednesday is crucial for securing a good camping location.
And while having the ideal camping real estate isn't crucial to having a great time, finding a decent one can upgrade your Festival experience immensely.
If, on the other hand, you arrive late, it is useful to know the areas that will likely to still have space or even some good spots to pitch your tent.
This is why we have taken it upon ourselves to approach this topic with the utmost care and respect it deserves and have put together this essential guide to help give you the tools needed for making an educated choice of where the best place to camp at Glastonbury Festival would be, for you.
Below you'll find a list of all the public camping fields available to camp in at Glastonbury Festival. Clicking on each field will take you to a detailed breakdown of that zone, which includes a photo of the camping field, along with its location on the map (highlighted in red) and the pros and cons of each one. We have also included a rough estimate of how long it will take to walk to the Pyramid Stage from each of the fields and via which gate would be best to access them. Enjoy.
GLASTONBURY CAMPSITES
ACKNOWLEDGMENTS & PLEDGE
We would like to take this opportunity to thank a number of sources that were extremely inspirational and helpful in the process of putting together this guide – including but not limited to the V&A, eFestivals Forums, Paul Tort Howard, Glastowikipedia, the official Glastonbury website and of course the wonderful community surrounding this amazing Festival.
And last but not least, most important of all – if you take anything from this guide, let it be that no matter where you decide to pitch your tent, please always remember your pledge to 'Love the Farm, Leave no Trace';
To only use the toilets provided and not pee on the land or in waterways;
To use the recycling bins correctly and not drop litter on the ground;
To take all your belongings home with me again, including your tent and all camping equipment;
To bag up your rubbish in the bin bags provided by the campsite stewards and use the recycling pens provided in each campsite;
And to try to use a reusable water bottle and avoid single-use packaging.