Arcadia's Spider
The Chemical Brothers are strongly rumoured for being Arcadia's "Very Special Guests TBA" at Glastonbury this year
UPDATE SECTION:
Since the posting of this article, Arcadia has officially confirmed The Chemical Brother will indeed play a DJ set on the Friday night of the Festival (24th June) from 23:00 – 01:00
This is going to come as a total shock… @ChemBros take over the Spider this Friday at @glastonbury – been looking forward to this for a decade.

Rumours eh?#thechemicalbrothers pic.twitter.com/r9vhJYURGE

— Arcadia (@A_rcadia) June 21, 2022
Arcadia has now revealed the final phase details of its highly anticipated line-up ahead of this year's Glastonbury Festival, set to take place next week.
The news follows the initial phase one poster release which dropped earlier this year, on the 27th of April.
The new line-up poster, shown below, details the full schedule including set times and features such names as Carl Cox, who is down as performing a Jungle B2B set with Chase & Status, Calvin Harris, DJ EZ, Four Tet, Jon Hopkins, Kurupt FM, Nia Archives, Tasha, Sub Focus B2B with Dimension, a showcase from Hospitality, a CamelPhat B2B set with Patrick Topping – as well as an unmissable "Very Special Guests TBA" slot on the Friday night (24th June) between 23:00 – 01:00.
Some growing speculation online points toward The Chemical Brothers being the ones set to fill the secret TBA "Very Special Guests" slot at this year's Arcadia.
Earlier this year, one half of The Chemical Brothers, Ed Simons, shared an intriguing photo via his personal Instagram account and by doing so entered the electronic music duo into the ever-growing Glasto Rumour Mill, at the time.
The post, seen below, which was later deleted, depicted Glastonbury's Worthy Farm Reserve Cheddar, accompanied by the caption: "Delicious cheese from Co-op" – in addition to a heart emoji and a "leylines" hashtag.
If that's not enough, strengthening the rumours even further, The Chemical Brothers also commented on Glastonbury organiser Emily Eavis's recent Glasto count-down post with two "hands up" emoji icons.
This is obviously all just rumour and speculation at this point, and as always, we'll just have to wait for an official announcement on this, if and when it comes.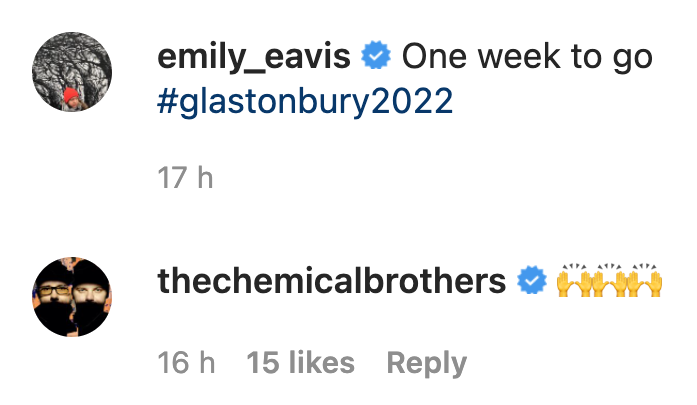 The Chemical Brothers – composed of Ed Simons and Tom Rowlands – are no strangers to Worthy Farm and last played the legendary Festival back in 2019, where they headlined the Other Stage on Saturday night of the Festival.
Arcadia's iconic much-loved fire-breathing Spider will be returning to Worth Farm for 2022 – after it hasn't been seen at the Festival since 2018 and was replaced with the Pangea crane for 2019.
Pangea's plan to keep the 20-meter crane base at the festival site year-round until 2023 was rejected by Mendip District Council and speculation has it that the cost of completely taking it down and rebuilding it each Festival-year is just too high for the Arcadia team's budget.
The crane base, seen in the image below, was a steel structure, 20.4-meter tall, part of the approximately 50-meter tall crane in total, which has now been removed from the semi-permanent fixture on the ground, in preparation for the installation of the returning Spider.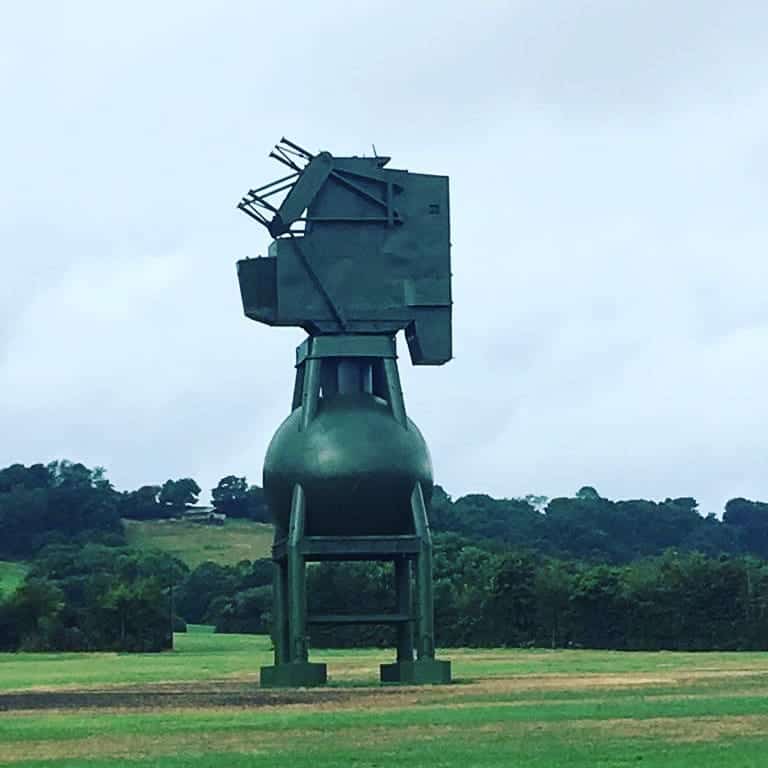 In other Glasto-news:
Co-op confirmed the return of its pop-up store for Glastonbury Festival 2022, and the official Glastonbury Festival app from EE, which according to an official statement by EE was originally due to be released on Monday, the 6th of June, finally went live on Android on the 7th of June – and after a slight lunch delay, saw the iPhone version be released one day later, on the 8th of June.
Meanwhile, last month saw BBC reveal its coverage plans for this month's Glastonbury Festival, which will mark the first time the Beeb has broadcast any music event in Ultra High Definition.
Another exciting announcement which was revealed last month included the new Glastonbury 2022 map, which featured lots of interesting changes and improvements to the site grounds ahead of the Festival this June.
Speaking of the new map, we also have a newly renovated and updated comprehensive Glasto Camping Guide which you can view here.
Stella McCartney's War Child vest:
In 2007, Stella McCartney designed a limited-edition vest which was sold for charity at that year's Glastonbury Festival.
The design, which features a blue sky, green field and psychedelic rainbow, was inspired by the Seventies airbrushed t-shirts her Mum and Dad used to get made.
The vest has since gone on to become a rare collector's item, but a recent warehouse audit unveiled several boxes of vests which had not been sold.
Last month (26th May), Glastonbury revealed a limited edition upcycled vest designed by Stella McCartney. Staying true to her ethos and principles to reduce the impact on our planet, the original vests have now been upcycled and repurposed with a new mushroom artwork celebrating fungi as the future of fashion and our planet.
These limited edition vests are on sale now via Glastonbury's official online shop, with all proceeds going to War Child's Emergency Fund– helping children in Ukraine and other conflicts.
General recap:
Although the full Glastonbury 2022 line-up including the set times breakdown was revealed last month (30th May), posters for dedicated stages and attractions have continued to be shared on social media as well as on the official Glastonbury website.
Strummerville revealed its line-up poster on the 31st of May, while new Beat Hotel replacement, San Remo, dropped the news on the 1st of June – just hours before Pilton Palais.
Block9 was the seventeenth area to announce its individual line-up poster (on the 27th of May) for this year's Festival.
Cineramageddon announced its individual line-up poster on the 25th of May, while West Holts revealed its lineup poster on the 24th of May – and Unfairground theirs on the 20th of May, just one day after The Park area which came on the 19th of May.
The Kidzfield revelation came on the 16th of May, just three days after Croissant Neuf's on the 13th, and followed announcements from Acoustic Stage and The Glade – on the 12th and the 11th of the month, respectively.
Late-night areas The Common and – Shangri-La also released their line-ups, on the 6th and the 4th of May, respectively. In addition to the Left Field line-up that was revealed on Tuesday morning, the 3rd of May.
Other key stories from last month's string of announcements included confirmation that Arcadia's iconic fire-breathing Spider will be returning to the Festival in 2022 – following planning issues with the Pangea crane, which had replaced the Spider in 2019 but will not be featured at this year's event.
The Arcadia news came bundled with its own line-up poster, after posters from Theatre & Circus Fields, Glasto Latino, and former Dance Village Silver Haye had also been revealed earlier that week.
And finally, Field of Avalon was the first area to announce its dedicated line-up poster for 2022 on Tuesday, the 12th of April.
2022 will be the first year to see Glastonbury take place since 2019, after two consecutive cancellations due to the coronavirus crisis – both in 2020 and 2021.
Meanwhile, the first main line-up announcement poster revelation, shown below, dropped in March of this year.
As seen in the poster above, Paul McCartney and Kendrick Lamar will be joining previously announced headliner Billie Eilish to top the bill at this year's event.
Eilish will be playing the Pyramid Stage on the Friday night – and by doing so make history as the youngest ever solo artist to headline the Festival at only 20-years-old.
Another historic moment will occur when Sir Paul McCartney takes to the Pyramid Stage on the Saturday night – which will subsequently make him the oldest Glastonbury headliner at 80-years-old.
Diana Ross will likewise be performing on the Pyramid Stage for the Sunday Teatime Legends Slot, while Lamar will be headlining the same stage later that evening.
Glastonbury 2022 is set to take place at its natural home in Worthy Farm, Pilton, Somerset, from Wednesday 22nd to Sunday 26th June.
Although tickets for the 2022 Festival have now completely sold out, there are still ways to go to Glasto this summer, with one of those ways being entering competitions.
To view our consolidated list of all the currently running competitions for the chance of winning tickets to this year's Glastonbury Festival, click here.
DON'T BE FOOLED:
Glastonbury Festival would very much like fans to be aware that there are people out there who will try and sell fake Glastonbury tickets to unsuspecting, willing and innocent potential purchasers.
Although Glasto-veterans who have been going to the Festival for quite some time may recognise these scams for what they are, newcomers to the Festival might not know that tickets are only sold on one site which is: glastonbury.seetickets.com – and any other site claiming to sell tickets for the Festival are not authentic.