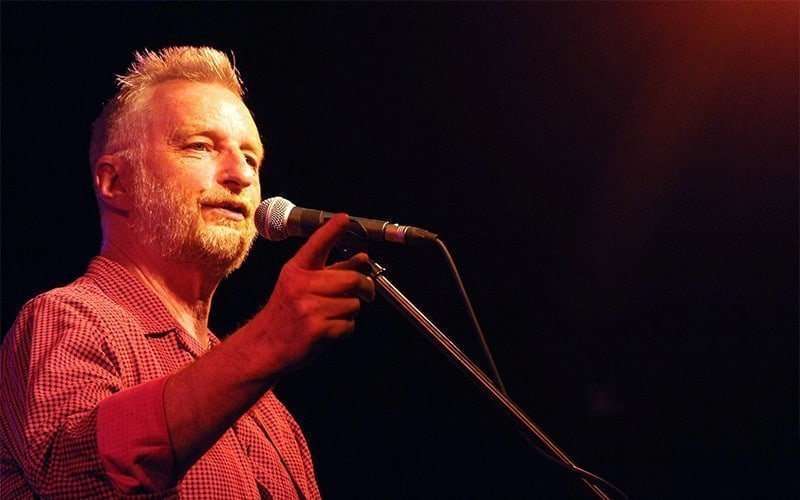 Photo Credit: Paul Windsor
The Bard of Barking says Glastonbury's cancellation for the second consecutive year comes as a "bit of a shock"
Billy Bragg has shared his thoughts on the recent cancellation of Glastonbury's 2021 edition of the Festival.
Speaking to BBC Breakfast, the singer-songwriter said: "I don't think it [the cancellation] was inevitable […] Glastonbury was one of those big things where we all thought, 'OK that's a landmark there. If we can get to Glasto […] it's a real signal to the rest of the festival diaspora that things are going to happen again'."
He added: "So, losing it [Glastonbury] again for another year is a bit of a shock […] It's a festival that does have a fallow year so they can deal with that […] But for all the people who go there and all the people who work as part of it, it's a real loss."
Bragg, being no stranger to the Worthy Farm-held event, has been organising the Festival's Left Field tent since 2010 when he was invited by Glastonbury founder Michael Eavis to curate the Leftfield stage.
The Barking-born singer-songwriter expressed hope that festivals and industry venues will be able to survive the current pandemic while managing to come through the other side once this is all over.
"Once this ends, people will want to get together and listen to music again because there's something you can get from gathering together in a crowd to listen to music… and you can't get that on the internet," he said.
Adding: "Whether it is small gigs, or something like Glastonbury […] "It's just the hope that those venues and those festivals are still going to be there."
Bragg features in Metropolitan Essex, a new documentary about his Essex roots, which airs tonight (Monday, 25 January) on BBC Radio 3.
You can watch the full interview with Billy Bragg on BBC Breakfast here, it starts from around the 3:06:10 time-mark.
Advertisement


Glastonbury organisers confirmed that the festival's 2021 edition will be cancelled again this year, with a statement posted to via their official channels earlier this month (Thursday, 21 January), which read:
"With great regret, we must announce that this year's Glastonbury Festival will not take place, and that this will be another enforced fallow year for us.
"In spite of our efforts to move Heaven & Earth, it has become clear that we simply will not be able to make the Festival happen this year. We are so sorry to let you all down.
"As with last year, we would like to offer all those who secured a ticket in October 2019 the opportunity to roll their £50 deposit over to next year, and guarantee the chance to buy a ticket for Glastonbury 2022. We are very appreciative of the faith and trust placed in us by those of you with deposits, and we are very confident we can deliver something really special for us all in 2022!
"We thank you for your incredible continued support and let's look forward to better times ahead.
With love, Michael & Emily"
Advertisement


Up until the very last moment, organisers had been working diligently in order to try and make it possible for the festival to go ahead safely this year.
Late last year (December 16, 2020), in an interview to the BBC, Eavis said: "We're doing everything we can on our end to plan and prepare, but there are still just so many unknowns and factors which are completely out of our control. What we definitely can't afford to risk is getting too far into the process of next year, only for it to be snatched away from us again. We lost millions this year, and we can't risk that happening again."
In the same interview, Eavis added that if the Festival could not happen in its traditional form, the organisers will consider inviting artists to perform on the farm for a series of live streams.
Echoing her words from last year – earlier this month (Friday, 22 January), while talking to The Guardian, Eavis discussed plans for 2021, confirming she was still working on Glastonbury-related projects, including possible live-streamed events.
"A lot of big artists have been in touch offering to perform for us at the farm, so we're doing everything we can to make that happen. We would love to build a show that can be watched at home by people all over the world, and of course it would be a useful way for us to make some very welcome income," she said.
Advertisement


Following the 2021 Festival cancellation announcement – Glastonbury founder and father of Emily Eavis, Michael Eavis, revealed earlier this month (Thursday, 21 January) that they were "considering" a smaller event for September, saying: "I would like to do something smaller somewhere around the anniversary date of when we started, which was the 18th of September 1970".
Glastonbury was set to celebrate its 50th-anniversary last summer (June 2020) – with headliners in Taylor Swift, Kendrick Lamar and Paul McCartney – but was forced to cancel the 2020 instalment due to the coronavirus crisis just a week after the lineup was announced in March of 2020.
Now with also the 2021 edition of the Festival being cancelled, MPs have spoken out in the wake of Glastonbury's cancellation to warn that the future of festivals could be threatened.
"The news that the UK has lost the Glastonbury Festival for a second year running is devastating," said DCMS Committee Chair Julian Knight MP. "We have repeatedly called for Ministers to act to protect our world-renowned festivals like this one with a Government-backed insurance scheme. Our plea fell on deaf ears and now the chickens have come home to roost.
"The jewel in the crown will be absent but surely the Government cannot ignore the message any longer – it must act now to save this vibrant and vital festivals sector."
Glastonbury 2022 is set to take place at its natural home in Worthy Farm, Pilton, Somerset, from 22nd – 26th June 2022
Advertisement