A mammoth roster and the possible return of the Spider in what looks like a leaked line-up poster…
UPDATE SECTION:
Since the publishing of this article, we have been contacted by someone from the Arcadia team asking to remove the original poster as it contains some incorrect information.
Arcadia's line-up poster for Glastonbury 2022 appears to have been leaked.
Sharing the poster via Facebook this afternoon (26 April), was non-other than legendary DJ and producer Carl Cox.
In a reply to a question posed to him by a fan, asking whether he will be playing Glastonbury – Cox replied with a poster image depicting what appears to be the partial line-up for this year's Arcadia area at the Festival which included his name on it, while adding: "on Saturday, I will be playing on the Glade stage. Mobile Disco set, like the last time I was there and it was a great day," (see Cox's original Facebook comment below).
Along with Cox who is down as performing a Jungle B2B set with Chase & Status, the now-deleted poster also featured names such as Amelie Lens, Calvin Harris, DJ EZ, Four Tet, Ishmael Ensemble, Jon Hopkins, Kurupt FM, Nia Archives, Nina Kraviz and Tasha + "very special guests" which have yet to be announced.
With no official word from Glastonbury Festival on the matter, one other thing that stood out and added to the confusion while looking at the leaked poster was the image of Arcadia's iconic fire-breathing Spider – which was replaced by Pangea for the 2019 Festival – and is speculated to be making its return to Worthy Farm for this June.
Pangea's plan to keep the 20-meter crane base at the festival site year-round until 2023 was rejected by Mendip District Council and speculation has it that the cost of completely taking it down and rebuilding it each Festival-year is just too high and way out of the Arcadia team's budget.
The crane base – a steel structure, 20.4-meter tall, which was part of the approximately 50-meter crane in total – is currently still bolted down to form a permanent fixture on the ground, while covering an area of 36 square metres located on the Worth Farm grounds (see image below).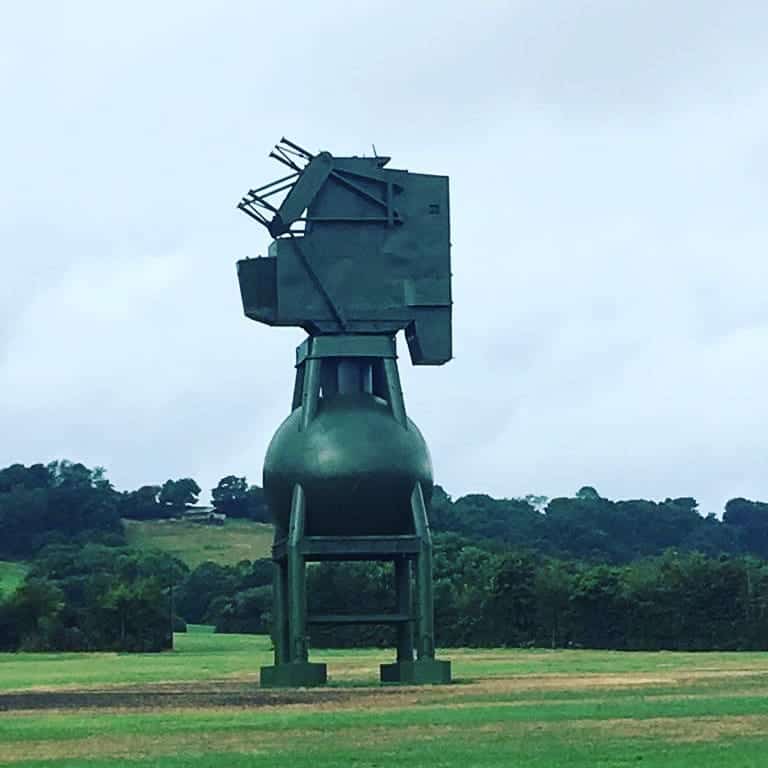 Meanwhile, as it stands, Field of Avalon, Silver Hayes and Glasto Latino are the only areas to have revealed their line-up posters ahead of this year's event, following Glastonbury's first major line-up announcement poster revelation which dropped earlier this year.
Paul McCartney and Kendrick Lamar will be joining previously announced headliner Billie Eilish and top the bill at this year's event when it finally returns for the first time since 2019, after two consecutive cancellations due to the coronavirus crisis.
Eilish will be playing the Pyramid Stage on the Friday night – and by doing so make history as the youngest ever solo artist to headline the Festival at only 20-years-old.
Another historic moment will occur when Sir Paul McCartney takes to the Pyramid Stage on the Saturday night – which will subsequently make him the oldest Glastonbury headliner at 80-years-old.
Diana Ross will likewise be performing on the Pyramid Stage for the Sunday Teatime Legends Slot, while Lamar will be headlining the same stage later that evening.
This year's Glastonbury announcements are far from over with lots more performers and attractions waiting in the pipeline to be revealed before the full line-up + times will finally drop around June time – as recently confirmed by Glastonbury organiser Emily Eavis.
That said, there are many artists who confirm themselves prior to the official announcements by divulging the news during interviews, via social media or website listings.
Some of the recent artists to self-confirm for Glastonubry 2022 include Fatboy Slim, Chris Difford, Carl Cox, Haim, Courtney Barnett, Glastonbury-staple Craig Charles and Black Dyke Band – who said they will be opening the Pyramid Stage on Sunday morning (26 June).
Other acts who have been rumoured to make an appearance at this year's event include Candi Stanton, Brass Against, The Chemical Brothers, Basil Brush, The 1975, Harry Styles and The Lathums.
To view our full constantly updated list of all the latest line-up announcements and rumours, click here.
Glastonbury 2022 is set to take place at its natural home in Worthy Farm, Pilton, Somerset, from Wednesday 22nd to Sunday 26th June.
Although tickets for the 2022 Festival have now completely sold out, there are still ways to go to Glasto this summer.
Some of the opportunities include entering competitions, working at the Festival and volunteering.
DON'T BE FOOLED:
Glastonbury Festival would very much like fans to be aware that there are people out there who will try and sell fake Glastonbury tickets to unsuspecting, willing and innocent potential purchasers.
Although Glasto-veterans who have been going to the Festival for quite some time may recognise these scams for what they are, newcomers to the Festival might not know that tickets are only sold on one site which is: glastonbury.seetickets.com – and any other site claiming to sell tickets for the Festival are not authentic.