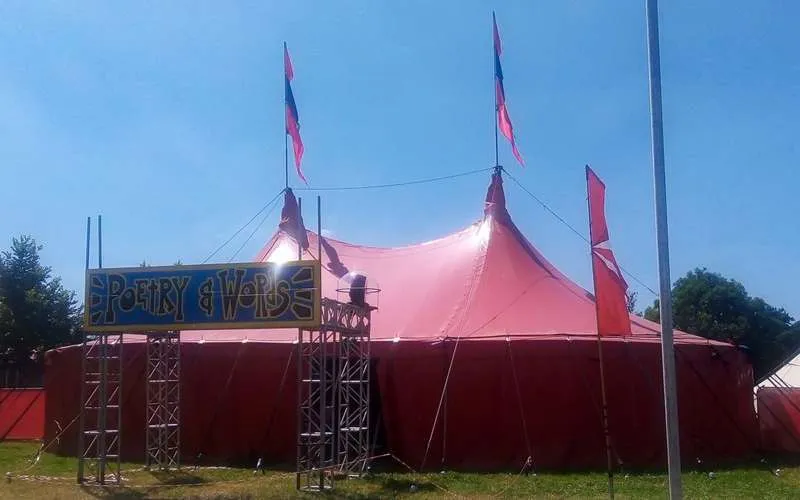 Poetry&Words Stage at Glastonbury 2022 • Credit: Poetry&Words website
This is your chance to perform on the world-famous Poetry&Words stage at Glastonbury Festival
Poetry&Words have opened their applications to poets and purveyors of the fine spoken word who would like to perform on their stage at Glastonbury 2023.
Looking for applications from experienced writers and performers, Poetry&Words is "calling all performance poets, spoken word artists, stand-up poets, raconteurs, bards and wordsmiths" with something riveting, riotous, rigorous and generally resplendent to offer up to the audiences of the world's biggest greenfield arts festival.
The Poetry&Words stage is located within the Theatre & Circus area, which will be returning to Worthy Farm this year and feature approximately 400 acts presenting around 1,500 shows spread across three beautiful fields of wonder.
2022 saw the Poetry&Words tent host an abundance of talent which included such artists as Rosy Carrick, Courtney Conrad, Tony Walsh, Demi Anter, and Desree – to name a few.
Requirements:
Poetry&Words operates a fast turnaround stage, and so are looking for individual artists and duos who can hit it at a dead run with the minimum of tech support, preamble, props and paraphernalia.
They also have stage-time available for one-person spoken word shows of up to 1 hour in length, with minimal stage set-ups and technical requirements.
How to apply:
Video yourself performing your work and upload it to YouTube (or similar).

Audio is also okay, but video holds the most impact.

Send up to 3 video (or audio) web links (YouTube or similar) of your performances, in addition to your bio and a few well-crafted paragraphs of yourself to

[email protected]

Poetry&Words will then review all applications and contact successful applicants.
Deadline:
The deadline for applications is, strictly, 5pm (GMT) on Friday 3rd March 2023.
More info:
Only one application per act will be accepted – therefore, Poetry&Words asks that you please do not follow up on your application with multiple emails checking on progress or making amendments to your application, as this clogs the Inbox and makes your name memorable for all the wrong reasons.
Poetry&Words do pay a fee, but this is only small.
Overseas poets, in particular, should note that Poetry&Words are unable to provide travel expenses.
Guest tickets are also beyond their power.
Booked performers will also receive a ticket for themselves as well as a camping pitch backstage of the Poetry&Words tent.
To find out more about Poetry&Words, click here.
In other Glasto news, with both the main ticket sales, as well as the local & Sunday ticket sale now behind us, the next option to bag tickets to Glastonbury 2023 will be when the resale of any unpaid and/or cancelled tickets takes place in the Spring of 2023 (around April time).
As part of Glastonbury's ongoing efforts against ticket touting, anyone who would like to attend this year's Festival will need to have registered in advance.
As in previous years, registration remains free of charge and only takes a few minutes at glastonburyregistration.co.uk.
Those who have already registered in the past can also check their existing registration here.
In addition to the upcoming ticket resales, some other opportunities for getting to Glastonbury include working at the Festival, volunteering and entering competitions – once these options make themselves available.
To learn more about registration, the sale process and how you can maximise your chances of getting Glastonbury 2023 tickets, click here.
Don't be fooled
Glastonbury Festival would very much like fans to be aware that there are people out there who will try and sell fake Glastonbury tickets to unsuspecting, willing and innocent potential purchasers.
Although Glasto-veterans who have been going to the Festival for quite some time may recognise these scams for what they are, newcomers might not.
Therefore, please remember that tickets are only sold on one site, which is: glastonbury.seetickets.com.