GWR Glastonbury 2023 Tickets Competition
GWR are giving away 2 pairs of tickets to this year's Glastonbury Festival, plus train travel to get you there and back!
Great Western Railway is offering you the chance to win one of 2 pairs of tickets to Glastonbury 2023, which come bundled with two Return Anytime Standard Class tickets on GWR services.
All you have to do in order to be in with a winning chance in the Great Western Railway competition is fill in a few basic details about yourself (before 23:59 on the 18th of May 2023) and you could win an unmissable weekend that includes 2 tickets to Glastonbury 2023, in addition to 2 Return Anytime Standard Class tickets on GWR trains.
GWR Glastonbury 2023 Competition
PRIZE
1 pair of tickets to Glastonbury 2023 + two Return Anytime Standard Class tickets on GWR services (only).
HOW TO ENTER
Head over to GWR's competition entry form.
Fill in your details (name, address, email, etc) and submit your entry.
The winners will then be notified by email and/or telephone by 22nd May 2023.
In order to up your chances with a bonus entry:
CLOSING DATE
23:59 on 18th May 2023.
– – –
For the full Terms & Conditions, click here.
Back in 2019 a new GWR train named was named after Glastonbury's legendary founder Michael Eavis, while Castle Cary station – the transport nerve centre responsible for taking thousands of Glasto-goers to and from the festival site – received a new dedication as 'Castle Cary, Station of the Glastonbury Festival'.
The naming of Great Western Railway's 100 Great Westerners' new Intercity Express is the result of a public poll of readers from ten newspapers, who nominated figures from past and present to celebrate some of the most inspiring individuals from the South West region.
The top 50 of GWR's new Intercity Express trains will bear the names of the 100 Great Westerners – with the Queen naming the first train back in June of 2017.
Great Western provides over 50 extra trains to and from Castle Cary to help Glastonbury Festival travellers attend the Worthy Farm event, carrying as many as 15,000 Glasto-goers each year.
Read more about all the currently running competitions for the chance to win tickets to this year's Glastonbury Festival in our updated list, here.
OTHER GLASTO NEWS
Glastonbury 2023, which this year will be held from the 21st to the 25th of June, has recently already confirmed a host of line-up posters for its individual areas and stages – including the bills for West Holts, Silver Hayes, Field of Avalon, Croissant Neuf, Left Field, and most recently the Theatre & Circus Fields.
Although the full Glasto line-up doesn't tend to get released until the end of May, this year, the first main Glastonbury 2023 line-up poster containing some of the big-name acts to perform at this year's Festival was announced on Friday morning, the 3rd of March 2023.
With less than 50 days to go until Glastonbury opens its gates, and with over 40 different line-up posters released for last year's Festival, we can expect a large number of individual areas and stages to announce their dedicated line-ups over the coming weeks in the buildup to this year's anticipated event.
Arctic Monkeys and Guns N' Roses were officially announced as the two other headliners to join already confirmed Sunday night headliner Elton John on the Glastonbury 2023 line-up and will take to the Pyramid Stage on the Friday and Saturday nights of this year's Festival (respectively).
The Glastonbury 2023 first line-up poster was shared via the Festival's official Twitter account on Friday morning the 3rd of March at 9:32 AM – about half an hour after the initial Guardian article detailing the names on the line-up was published.
When published, the original article featured 55 artists on the list, however, it was then amended to omit one of the acts on the line-up in Queens of the Stone Age – explaining: "The number of announced artists was also reduced from 55 to 54 after an artist had been wrongly included in the initial lineup by Glastonbury organisers."
Some of the names featured on the main line-up poster include Lizzo, Lana Del Rey, Lil Nas X, Wizkid, and Yusuf / Cat Stevens – who will take to the iconic Pyramid Stage as this year's Sunday teatime Legend Slot performer.
The first main line-up 2023 poster (mentioned above) was then updated to move 2 Other Stage headliners (Lana Del Rey and Wizkid), Sunday Pyramid sub (Lil Nas X) and Legend Slot performer (Cat Stevens / Yusef) to the second row – as seen in the poster below.
Elsewhere, Glastonbury staple Craig Charles confirmed he'll be returning to the Pilton-held event to play his much-loved epic afternoon set at Shangri-La this year, while the Saw Doctors are reportedly set to return to Worthy Farm to "play Glastonbury, heading the Acoustic Stage at the festival on Friday, June 23rd".
Post-punk band Shame also self-confirmed fo playing the Pilton-held event after revealing the news in a Reddit Q&A.
You can now stay up to date with all the latest acts that have been confirmed, self-confirmed, rumoured or are unlikely to appear on the Glastonbury 2023 Festival line-up – as well as every Glasto-shaped hole, gap and crack so far – via our daily updated line-up & rumours list.
All tickets for this year's Festival completely sold out when they originally went up for sale in November (last year).
Standard tickets for the 2023 Glastonbury Festival sold out in 61 minutes on the 6th of November [2022], after a swift sellout on the 3rd of November [2022] of tickets packaged with coach travel, which sold out in just 22 minutes.
There was then a resale of returned tickets packaged with coach travel last Thursday (20th April), which were all snapped up and sold out in just 10 minutes.
That was then followed by the resale of General Admission tickets which went up for grabs on Sunday morning (23rd April) and were all gone in just 6 minutes, after going on sale at 9am.
Although tickets have completely sold out, as you can see, there are plenty of other opportunities for getting to Glasto this summer – which include as well as entering competitions, also include working and volunteering at the Festival.
As of the time of writing, there are currently 8 open running competitions for the chance of winning the golden ticket – including opportunities from National Express, Co-op, Tony's Chocolonely & Oxfam, Brothers Cider, Worthy Farm Cheddar & Co-op, and Vodafone.
Read more about all the currently running competitions for the chance to win tickets to this year's Glastonbury Festival in our updated list, here.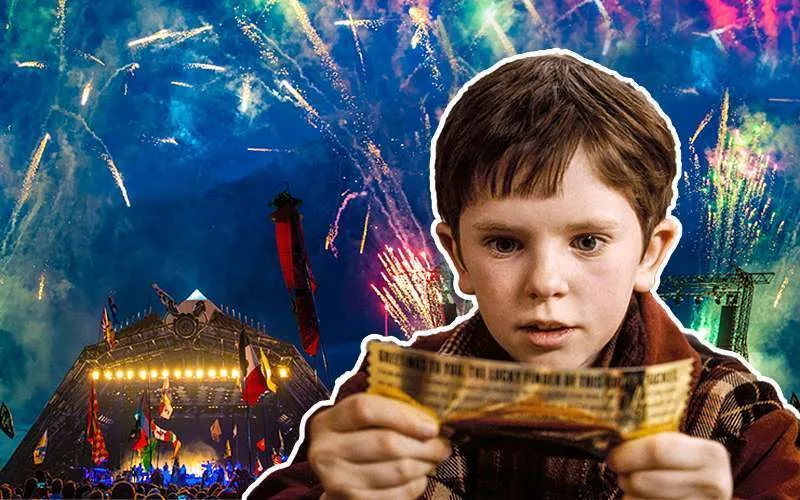 SITE UPDATES & CHANGES
Vodafone has announced a multi-year partnership with Glastonbury as the 'Festival's Official Connectivity Partner' and will be replacing EE, which up until 2022 was Glastonbury's technology partner for the seventh year running.
Emily Eavis confirmed the renaming of the John Peel Stage to Woodsies, as well as adding a new family-orientated area of the same name which will feature a campfire.
Children will not be allowed in the notorious after-hours south-east corner (also known as the 'naughty corner') after 10pm and will be encouraged to seek out child-friendly areas across the site such as the Theatre & Circus Fields, and the campfire in the new Woodsies area.
MORE GLASTO NEWS
In other news, Glastonbury Festival in collaboration with Oxfam managed to raise more than £1 million for the Disasters Emergency Committee (DEC)'s appeal to help communities impacted by the Turkey and Syria earthquakes.
The appeal, which came in the form of a raffle, gave participants the opportunity to win one of 10 pairs of tickets donated by the Festival to its sold-out 2023 event, each including a once-in-a-lifetime experience – such as the chance to watch a band from the side of the legendary Pyramid Stage or introduce an act on The Park Stage.
The appeal managed to raise more than £320,000 just 12 hours after launching on the 15th of February, rapidly increasing to £550,000 only 24 hours later and finally smashing its updated target of £1 million on Monday evening, the 6th of March.
The prize draw concluded at noon on the 8th of March raising a sum total of £1,044,130 from 46,390 supporters, with the draw set to take place on the 15th of March and winners notified by email and/or first-class post within 5 days of the draw date.
Prior to the Oxfam raffle mentioned above, the Festival also helped raise over £116,000 in aid of the Trussell Trust in a partnership auction to help support people facing hardship across the UK.
The money was put up in a series of 10 eBay auctions run by the food bank charity to raise funds for their network of over 1,300 food banks scattered across the country.
In this instance, similar to the Oxfam appeal, auctions offered 10 pairs of tickets which included once-in-a-lifetime opportunities for fans at the Festival.
The total from all ten Trussell Trust auctions amounted to £116,738 – with the "cheapest" pair of tickets selling for £10,200, which included the chance to watch a set from the Other Stage viewing platform.
DON'T BE FOOLED
Glastonbury Festival would very much like fans to be aware that there are people out there who will try and sell fake Glastonbury tickets to unsuspecting, willing and innocent potential purchasers.
Although Glasto-veterans who have been going to the Festival for quite some time may recognise these scams for what they are, newcomers might not.
Therefore, please remember that tickets are only sold on one site, which is: glastonbury.seetickets.com.