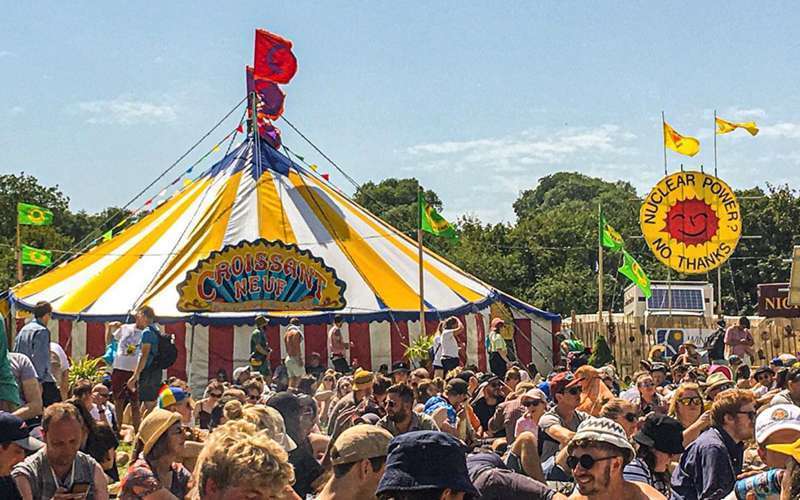 Photo Credit: Adam Gordon
Once again bringing great live music to the Green Fields
With only 40 days to go until Glastonbury gates open for the first time in three years, the individual area line-up announcements are coming in fast and strong.
The eleventh area to have its line-up poster officially announced is Croissant Neuf – with Glastonubry officials revealing the bill this morning (Friday, 13th May) – with at least another six areas still to come.
This revelation follows an unofficial leak which had previously revealed the poster line-up earlier in the month.
In the message shared via its social channels, Glastonbury Festival said: "We're pleased to reveal the 2022 line-up for the solar-powered Croissant Neuf stage, once again bringing great live music to the Green Fields!"
The poster, shown below, features Cat Capers, Moulettes, K.O.G, Steve Knightley & Seth Lakeman, Sam Lee and many more.
The Neuf's announcement comes just one day after Acoustic Stage and The Glade announced their line-up posters earlier in the week, on the 11th and the 12th of May, respectively.
Late-night areas The Common and Shangri-La likewise, also released their line-up posters earlier in the month – on the 4th and the 6th of May, respectively.
The Left Field line-up was revealed on Tuesday morning, the 3rd of May, following confirmation of Glastonbury's Emerging Talent Competition winner, Scottish singer-songwriter Lewis McLaughlin.
Last month, it had been confirmed that Arcadia's iconic fire-breathing Spider will be returning to the Festival following planning issues with the Pangea crane, which had replaced the Spider in 2019.
The news came on bundled with Arcadia's line-up poster, which followed line-up posters for the Theatre & Circus Fields, Glasto Latino, former Dance Village Silver Hayes and Field of Avalon.
2022 will be the first year to see Glastonbury take place since 2019, after two consecutive cancellations due to the coronavirus crisis – both in 2020 and 2021.
Meanwhile, the first main line-up announcement poster revelation, shown below, dropped in March of this year.
As seen in the poster above, Paul McCartney and Kendrick Lamar will be joining previously announced headliner Billie Eilish to top the bill at this year's event.
Eilish will be playing the Pyramid Stage on the Friday night – and by doing so make history as the youngest ever solo artist to headline the Festival at only 20-years-old.
Another historic moment will occur when Sir Paul McCartney takes to the Pyramid Stage on the Saturday night – which will subsequently make him the oldest Glastonbury headliner at 80-years-old.
Diana Ross will likewise be performing on the Pyramid Stage for the Sunday Teatime Legends Slot, while Lamar will be headlining the same stage later that evening.
A platter of performers and attractions which have yet to be announced are still waiting in the pipeline to be revealed before the full line-up + times should finally drop around June time – as recently confirmed on Twitter by Glastonbury organiser Emily Eavis.
That said, there are many artists who confirm themselves prior to the official announcements by divulging the news during interviews, via social media, or website listings.
Some of the recent artists to self-confirm for Glastonubry 2022 include Fatboy Slim, Chris Difford, Carl Cox, Haim, Courtney Barnett, Glastonbury-staple Craig Charles and Black Dyke Band – who said they will be opening the Pyramid Stage on Sunday morning (26 June).
We also have a newly renovated and updated comprehensive Glasto camping guide which you can now read, here.
Glastonbury 2022 is set to take place at its natural home in Worthy Farm, Pilton, Somerset, from Wednesday 22nd to Sunday 26th June.
Although tickets for the 2022 Festival have now completely sold out, there are still ways to go to Glasto this summer.
Some of the opportunities include entering competitions, working at the Festival and volunteering.
DON'T BE FOOLED:
Glastonbury Festival would very much like fans to be aware that there are people out there who will try and sell fake Glastonbury tickets to unsuspecting, willing and innocent potential purchasers.
Although Glasto-veterans who have been going to the Festival for quite some time may recognise these scams for what they are, newcomers to the Festival might not know that tickets are only sold on one site which is: glastonbury.seetickets.com – and any other site claiming to sell tickets for the Festival are not authentic.
See Tickets is the only company permitted to sell accommodation for Glastonbury Festival. No other site or agency will be allocated accommodation. Any other company or individual claiming to sell official Glastonbury Festival accommodation is bogus.