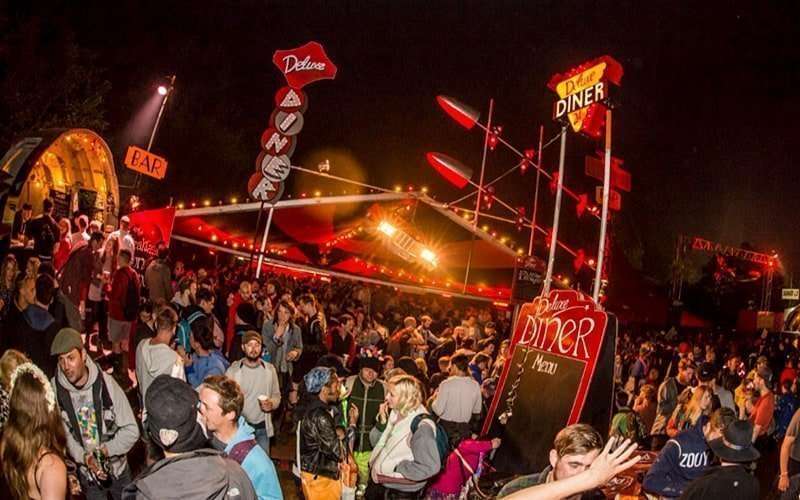 Deluxe Diner, 2016 • Deluxe Diner Facebook
The restaurant's lavish menu includes Curried Apple Chutney, Sirloin Steak, and Caramelised White Chocolate
The Deluxe Diner will be returning to Glastonbury Festival this year and once again bring campers the finest food onsite.
The restaurant will offer a three-course 'deluxe' menu meal cooked once again by non-other than head chef Andy Evans – winner of the Observer's Best Sunday Lunch Award. What's more, everyone who dines here will get a real plate, knife, fork and glass. Not to mention tables and chairs and great service.
The full restaurant menu (detailed below) will be served from Wednesday (21st June) to Saturday (24th June) – with a hearty Sunday (25th June) lunch to finish off the festival.
2023 DELUXE DINER RESTAURANT
FULL SERVICE MENU (Wed, Thu, Fri, Sat)
Starters
Creedy Carver Chicken & Duck Terrine, Pistachio, Mango, Curried Apple Chutney, Melba Toasts
Spiced Lamb Sweetbreads, Spring Vegetables, Mint & Elderflower Vinaigrette
Diver Caught Scallop, Cauliflower, Pickled Raison & Hazelnut Dressing
Parmesan Fried Courgette Flower, Ricotta, Truffle Honey, Charred Peach Salsa (vegan)
Heritage Tomatoes, Pickled Cucumber, Olives, Burnt Red Onion & Feta Snow (vegetarian)
Mains
Sirloin Steak, Parsley Root Puree, Pomme Anna & Beer Braised Onions
Chargrilled Pork Chop, New Potato Champ, Baked Apple Puree, Cider & Mustard Sauce & Chicory Salad
Red Mullet Stuffed with Braised Fennel, Black Olive & Sun Blushed Tomatoes, Parmesan Mash, Brittany Artichokes
Leek, Broad Bean & Wild Mushroom Tart, Charred Leeks & Girolles (vegetarian)
Celeriac "Porridge", Salt Baked Beetroot, Mushroom Dashi & Crispy Seaweed (vegan)
Desserts
Strawberry & Basil Parfait, Strawberry Jelly, Sherbert & Sorbet, Yoghurt & Basil Meringue
Bitter Chocolate Semi Freddo, Caramelised White Chocolate, Honeycomb & Salted Caramel
Truffled Local Camembert, Homemade Chutney, Pickles & Crackers
Orange & Almond Polenta Cake, Orange Glaze (vegan)
SUNDAY ROASTS
*
Roast Topside of Beef, Yorkshire Pudding, Braised Red Cabbage, Bone Marrow Gravy & Horseradish
Marinated Leg of Black Face Lamb, Purple Sprouting Broccoli, Gentleman's Relish & Mint Sauce, Lamb Jus Gras
Tudge's Rare Breed Pork Belly, Choucroute, Apple Sauce, Cider & Mustard Gravy
Somerset Organic Chicken, Confit Leg Croquette, Shallot Puree, Thyme Gravy,
Wild Rice & Cashew Nut Roast, Cheesy Leeks & Mushroom Gravy (vegetarian)
Wild Rice & Cashew Nut Roast (Vegan Option)
*All served with roast potatoes, new season carrots & garlic greens.
PRICES
The Full Service meals detailed above will cost £45 for 2 courses and £55 for 3 courses, while Sunday lunches will be £30. Drinks or additional courses will need to be paid for during the meal.
Deluxe Diner offers full refunds (minus the booking fee of 2.5%) until the 1st of June, with no refunds available after that date.
BOOKING
Bookings can be made here when they go live on Sunday, the 12th of March 2023.
The main course is selected during the booking process but starters and desserts are chosen on the day.
Full Service openings;
Wednesday 22 June – 6pm.
Thursday 23 June – 2pm and 6pm.
Friday 24 June – 2pm and 6pm.
Saturday 25 June – 1pm.
Sunday Lunch openings;
Sunday 26 June – midday, 1pm, 2pm and 3pm.
If you have any trouble paying online please email [email protected]
Ever since its first incarnation as the Silver Service Restaurant as part of Lost Vagueness in 2002, the Deluxe Diner has delighted diners with fantastic food, great cocktails, wines, and a special atmosphere by day.
By night, however, at around 8pm, the Diner Djs (curated by Andy P) take over the place to bring you arguably one of the best Parties on site – while next door in the Rocket Lounge, Gaz Mayall showcases a roster of cracking live bands.
Both the Deluxe Diner and the Rocket Lounge are located in their own little field between Shangri-La and The Unfairground in the South East Corner of the Festival site – watch the video below to see the Deluxe Diner go into full-on party mode by night.
OTHER GLASTONBURY NEWS
Earlier this month Glastonbury Festival announced that it is donating 10 sets of tickets, each with a once-in-a-lifetime experience to raise money for the Disasters Emergency Committee's Turkey-Syria Earthquake appeal with Oxfam.
DEC member charities, including Oxfam, are working in Türkiye (Turkey) and Syria with local partners to support survivors of the earthquakes and by entering, you'll be helping them to reach as many people as possible with clean water, food, sanitation, shelter and other urgent support.
Prior to the Oxfam raffle mentioned above, the Festival also helped raise over £116,000 in aid of the Trussell Trust in a partnership auction to help support people facing hardship across the UK.
The money was put up in a series of 10 eBay auctions run by the food bank charity to raise funds for their network of over 1,300 food banks scattered across the country.
In this instance, similar to the Oxfam appeal, auctions offered 10 pairs of tickets which included once-in-a-lifetime opportunities for fans at the Festival.
The total from all ten Trussell Trust auctions amounted to £116,738 – with the "cheapest" pair of tickets selling for £10,200, which included the chance to watch a set from the Other Stage viewing platform.
Glastonbury 2023 takes place from Wednesday 21st to Sunday 25th of June 2023 at Worthy Farm, Pilton, Somerset.
Although tickets for the 2023 event sold out late last year [2022], there will be resales of any unpaid and/or cancelled tickets that will take place later in the Spring (around April time).
As part of Glastonbury's ongoing efforts against ticket touting, anyone who would like to attend this year's Festival will need to have registered in advance.
As in previous years, registration remains free of charge and only takes a few minutes at glastonburyregistration.co.uk.
Those who have already registered in the past can also check their existing registration here.
In addition to the upcoming ticket resales, some other opportunities for getting to Glastonbury include working at the Festival, volunteering and entering competitions – once these options make themselves available.
To learn more about registration, the sale process and how you can maximise your chances of getting Glastonbury 2023 tickets, click here.
DON'T BE FOOLED
Glastonbury Festival would very much like fans to be aware that there are people out there who will try and sell fake Glastonbury tickets to unsuspecting, willing and innocent potential purchasers.
Although Glasto-veterans who have been going to the Festival for quite some time may recognise these scams for what they are, newcomers might not.
Therefore, please remember that tickets are only sold on one site, which is: glastonbury.seetickets.com.