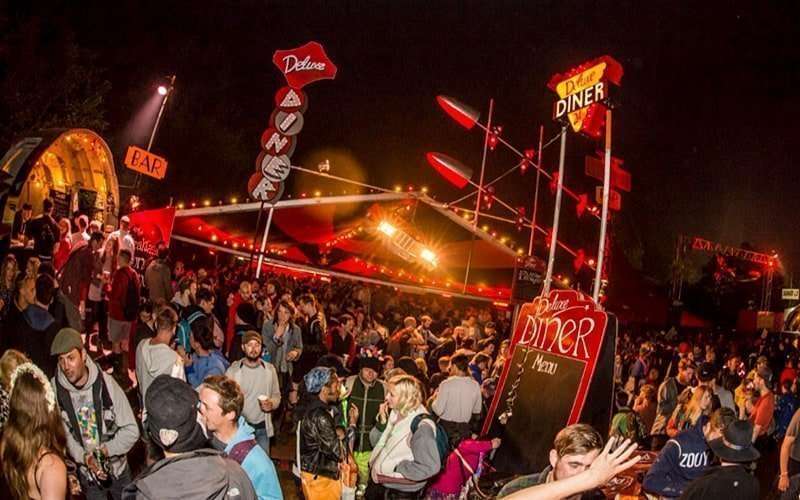 Deluxe Diner
Fancy a proper restaurant meal in the Deluxe Diner at Glastonbury 2020 – including their legendary Sunday lunch?
The Deluxe Diner returns to Worthy Farm for Glastonbury's 50 anniversary this June with their aeroplane cockpits, killer tunes, amazing cocktails, good vibes and exquisite food.
The South East Corner venue announced on Facebook this evening (February 11) that it will be opening bookings for its Restaurant Menu – midday Saturday, February 15, 2020 – via its official website.
Ever since its first incarnation as the Silver Service Restaurant as part of Lost Vaguenes, the Deluxe Diner has delighted their diners with fantastic food, great cocktails and wines and a special atmosphere that you can only get when you are at Glastonbury Festival pushing the boat out – What's more, you will get a real plate, knife, fork and glass. Not to mention tables and chairs and great service.
The Deluxe Diner and Rocket Lounge are located in their own little field between the main Shangri-La Field and The Unfairground in the South East Corner of the site.
Head Chef Andy Evans – winner of the Observer's Best Sunday Lunch Award – will once again be cooking the finest food onsite, and this year diners will be able to choose from; the Full Restauarnt Menu on Wednesday, Thursday, Friday and Saturday and then, of course, the legendary Sunday lunches. See the full menu below.
Advertisement


FULL SERVICE MENU
(Weds, Thurs,Fri, Sat)
STARTERS
Home Cured Duck, Liver Parfait, Cherry, Pear & Saffron
Braised Pork Shoulder & Parsley Terrine, Runner Bean Chutney
Gin Soused Sea Bass, Cucumber Jelly, Grapefruit Pearls, Sour Cream & Caviar
Salt Baked Heritage Beetroot, Radicchio, Goats Cheese, Apple Caramel & Walnuts (v)
Wye Valley Asparagus 3 Ways (vg)
MAINS
Roast Marsh Fed Lamb Rump, Cornish Mids, Asparagus, Peas & Beans, Mint
Organic Chicken & Sweetcorn Ballantine, Potato Puree, Spinach & Bacon
Grilled Devonshire Lobster, Jersey Royals, Truffle Mayonnaise
Creamy Polenta. Fried Violet Artichokes, Crushed Broad Beans, Gremolata, Hampshire Tunworth (v)
Isle of Wight Plum Tomato & Courgette Galette, Sun Blushed Tomato, Caramelised Onion & Basil (vg)
DESSERTS
Bitter Chocolate & Whiskey Mousse, Salted Caramel & Peanut Truffles
Glastonbury (Eton) Mess
Coffee Ice Cream Cheesecake
Peach. Lavender & Almond Tarte Fine (vg)
SUNDAY ROASTS
Roast Topside of Beef, Yorkshire Pudding, Braised Red Cabbage, Bone Marrow Gravy & Horseradish
Marinated Leg of Black Face Lamb, Purple Sprouting Broccoli, Gentleman's Relish & Mint Sauce, Lamb Jus Gras
Tudge's Rare Breed Pork Belly, Choucroute, Apple Sauce, Cider & Mustard Gravy
Somerset Organic Chicken, Confit Leg Croquette, Shallot Puree, Thyme Gravy,
Wild Rice & Cashew Nut Roast, Cheesy Leeks & Mushroom Gravy  (vegetarian)
Wild Rice & Cashew Nut Roast  (Vegan Option)
All served with roast potatoes, new season carrots & garlic greens.
For more info on service times, prices and the full T&C – please visit Deluxe Diner's official website here.
Meanwhile, Arcadia has recently been reported to be working on 4 new performance pieces which are set to debut at the Festival later this year – while Glastonbury's late-night areas Shangri-La and Block9 confirmed the return of the Gas Tower and IICON for Glastonbury 2020.
Taylor Swift was the second headliner to be announced for the 2020 edition of the Festival – after Paul McCartney, and joins Diana Ross who was officially confirmed earlier last year as Glastonbury's 50-anniversary 'Legends' slot performer – while Mike Skinner, Carl Cox, Fun Lovin' Criminals and most recently Crowded House are the latest big-scale artists to self-confirm for the Festival's 2020 bill thus far.
Also confirmed for the bill are Wolf Alice who were announced as playing Glastonbury's 50th by non-other than Glasto founder, Michael Eavis himself.
Advertisement


Despite the fact that the full line-up for Glastonbury 2020 has yet to be released – all tickets for the Festival's 50th anniversary have now sold out, with General Admission tickets selling out in 33 minutes, following Coach + Ticket Packages which sold out in just 27 minutes.
There are still ways to go to Glastonbury this year, and in addition to being able to volunteer – there will also be a resale of any cancelled tickets in the spring, with coach + ticket packages going up for resale on April 16 – followed by a general admission tickets resale on April 19.
Glastonbury 2020 will take place at Worthy Farm, Pilton, Somerset – from Wednesday 24th to Sunday 28th June.
Advertisement