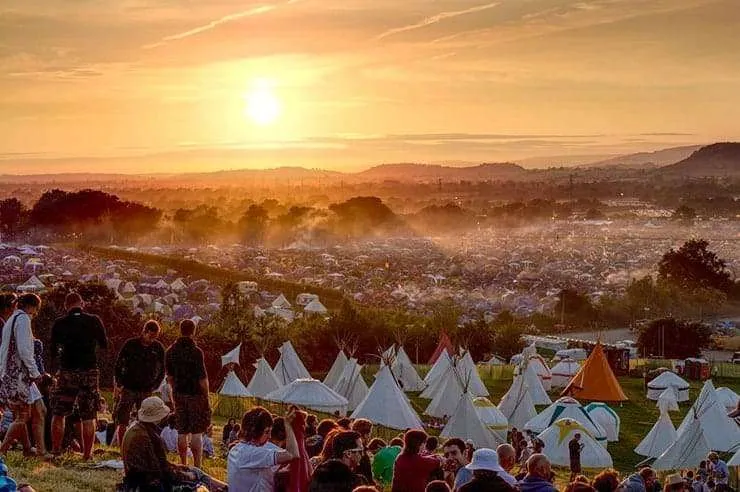 Glastonbury Festival has officially revealed the new site map for this year's Worthy Farm extravaganza
Last Updated on 
As with every Glastonbury Festival year, the unveiling of the map is a much-anticipated occasion.
The Glastonbury 2019 map was unveiled via the official Glastonbury website this afternoon (April 16).
Comparing the 2017 map to that of this year's – there are a few apparent changes to take note of.
West Holts has been repositioned to face more towards South-West rather than North-West – while Glasto Latino has been relocated further North just below West Holts – with Block 9 shifting a tad East and doubling in size.
The new "Glastonbury On Sea" Victorian Pier has been added to the map and is positioned at the southern side of Pennard Hill Ground, just north of the Tipi Village.
More staff camping has been added to Dairy Ground and a slight change made to Campervan East and West.
Also, as mentioned by Glastonbury organiser Emily Eavis while speaking on Rob da Bank's A-Z of Festivals podcast, the perimeter fence has been expanded for 2019 to include more crew camping areas that were previously outside the gates. We now see this will take shape in the form of a new Orange Staff Camping area just West of Bushy Ground.
An additional big bright shiny smiley has also been added to the map, indicating the addition of a new lost property point.
The Woods is now apparently called The Wood by the look of it.
Advertisement


Updated on
As expected, the Glastonbury 2019 map has been updated on the official site and is now in its 3rd version – there are some changes. Here are few which stand out:
The Arcadia spider has been replaced by Pangea.
One of Glastonbury's most sort after "secret" venues, the Rabbit Hole (which

now appears on the map)

, has swapped with the Bimble Inn.
The Wormhole has been added just South of Tipi Park.
Glastonbury-On-Sea shape changed from a circular shape to a hexagonal.
Block9 has now broken down into Block9 East and Block9 West.
Cenote added in The Common area.
Cineramageddon shifted slightly southward with a new addition of some sort at the northern side of the field.
Dairy Ground makes way to more public camping.
The Silver Hayes area (and Sonic Stage) has had a facelift.
A couple of WaterAid kiosks have been added.
Below is a comparison of The 2017 map and the 1st, 2nd and 3rd versions of the 2019 map.
A high-res map is available to view on the official Glastonbury site here.
Please keep in mind this is may not be the final version of the 2019 map and there could be some more changes to come.
Glastonbury 2019 runs between June 26 and 30 at Worthy Farm, Pilton, Somerset.
Advertisement