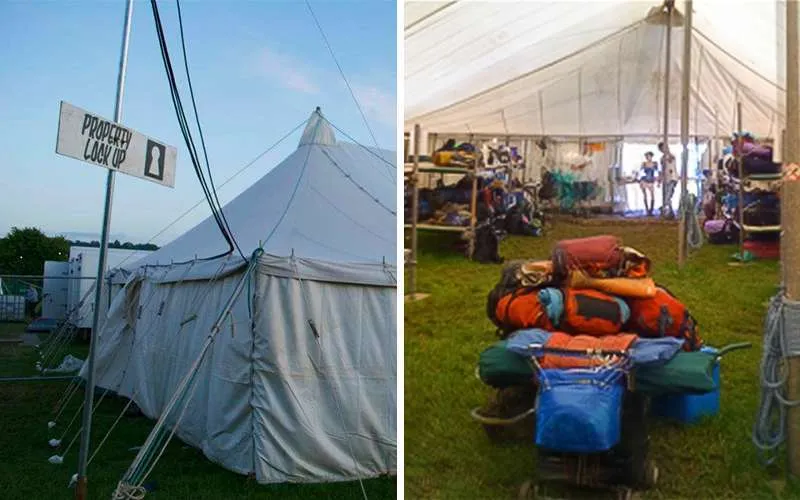 Photo Credit: Property Lock-ups
Everything you need to know about keeping your belongings safe by making the most of Glastonbury Festival's FREE Property Lock-ups
The Property Lock-ups at Glastonbury Festival are one of those seemingly underrated things in life that once utilised, you ask yourself how you ever managed without them.
They can be used for storing (almost) anything and everything – People leave a wide variety of weird and wonderful things in the lock-ups; from small items such as cash, keys and a spare phone to larger things like a fully loaded trolley and bicycles.
The Property Lock-ups are open 24 hours a day, are free of charge to use, and as well as looking after your belongings, they also distribute toilet rolls for FREE – though donations are gratefully received, which are then used to fund CND and various other peace campaigns.
The Property Lock-ups have been run at Glastonbury since 1992. There are about 14 on site and each lock-up handles about 30,000 items every year.
The Lock-ups are run by volunteers from Campaign for Nuclear Disarmament groups, Birmingham Friends of the Earth and Brighton Peace and Environment Centre – so in using the Property Lock-ups, you also support these groups campaigning for a more sustainable, peaceful society.
Lock-ups are secure marquees where you can store belongings – they have fencing running around the inside, are lit at night and have at least 3 staff at all times.
They operate on a similar basis to a cloakroom – you hand over your item(s), give them a few details and get a ticket in exchange, when you bring back the ticket, you get your item(s) back. There's a bit more detail to it – but that's the basic principle.
As good practice, it's a good idea to take a picture of your ticket receipt as a backup precaution (just in case it goes missing).
Large items such as rucksacks or musical instruments are stored on shelves made from scaffolding (all those bags get heavy so it needs to be as sturdy as possible) while smaller items such as mobile phones are stored in their own area in the lock-up so they can't get lost in amongst the bigger stuff.
On the other hand, documents such as passports, travel tickets, ID and cash are placed in envelopes, sealed in the owners' presence and stored in their own area – they don't get opened until the owner claims them back.
Property Lock-up FAQs:
What can be left there?
Pretty much anything that you've brought with you, bags, rucksacks, cameras, phones, instruments… You name it, they'll store it!
Why use a Lock-up?
It's the safest place to store anything of value to you. It's not just for expensive belongings (Phones, cameras, etc), but for items like car keys, train tickets, or personal medicines, which if they get lost will cause you huge problems.
How safe are they?
The property lock-ups are the safest place on site to store belongings. No one apart from staff members are allowed inside the lock-ups; festival-goers are not allowed to come in for any reason. They are staffed 24 hours a day, are well-lit at night and have direct communications with on-site security/police.
When are they open?
The lock-ups are open 24 hours a day from 8 AM on the Wednesday as the festival opens, and remain open until 12 noon on the Monday. Anything unclaimed after noon on Monday is (gradually!) transferred to Lost Property at Festival Wagonshed Welfare, who will hold it until it is claimed (and may not be available until after 4 PM).
Getting items back after the lock-ups close can take a long time, so it is recommended you do your best to get up nice and early on the Monday morning to make sure you get your stuff back!
Where are they located?
The locations are marked on the Festival map (seen below), and at the entrances to the Lock-ups, by a black 'keyhole' logo.
Can I trust the staff?
Yes! All the lock-up staff are volunteers who do the job for three reasons: as a way to see some of the festival, the enjoyment of the job (honestly!), and to raise funds for their groups.
What if I lose my ticket?
Don't panic! If you do manage to lose your ticket, there are procedures in place so that belongings can be reunited with their owners – this does take a bit of time so try not to lose it!
If someone finds a lost ticket and tries to claim your item, don't worry, they won't be able to get it. Only the person who checked an item in can reclaim it.
Is it really free?
Yes! The service is provided by Glastonbury Festival for the benefit of its festival-goers.
Challenge 21 wristbands:
The property Lock-ups will also be issuing 'Challenge 21' wristbands as Glastonbury operates a 'Challenge 21' policy for alcohol sales.
This basically means that if you look under 21, you will not be served alcohol unless you can prove you are over 18 – by presenting ID, or by wearing a 'Challenge 21' wristband.
These will be available from the property lock-ups, on presentation of a valid form of photo ID. The following are acceptable forms of ID:
UK Driving Licence
Valid Passport
If you don't want to bring your passport or driving licence, use a PASS ID.
The video below (produced by DorianPVP and shot by Ben Leete) provides information about the Property Lock-ups at Glastonbury and an insight into the people and the process.
You can also follow Property Lock-ups on Facebook and Twitter, as well as read more info here and here.
In other Glasto-news:
The official Glastonbury Festival app from EE, which according to an official statement by EE was originally due to be released on Monday, the 6th of June, finally went live on Android on the 7th of June – and after a slight lunch delay, saw the iPhone version be released one day later, on the 8th of June.
Meanwhile, last month saw BBC reveal its coverage plans for this month's Glastonbury Festival, which will mark the first time the Beeb has broadcast any music event in Ultra High Definition.
Another exciting announcement which was revealed last month included the new Glastonbury 2022 map, which featured lots of interesting changes and improvements to the site grounds ahead of the Festival this June.
Speaking of the new map, we also have a newly renovated and updated comprehensive Glasto Camping Guide which you can view here.
Stella McCartney's War Child vest:
In 2007, Stella McCartney designed a limited-edition vest which was sold for charity at that year's Glastonbury Festival.
The design, which features a blue sky, green field and psychedelic rainbow, was inspired by the Seventies airbrushed t-shirts her Mum and Dad used to get made.
The vest has since gone on to become a rare collector's item, but a recent warehouse audit unveiled several boxes of vests which had not been sold.
Last month (26th May), Glastonbury revealed a limited edition upcycled vest designed by Stella McCartney. Staying true to her ethos and principles to reduce the impact on our planet, the original vests have now been upcycled and repurposed with a new mushroom artwork celebrating fungi as the future of fashion and our planet.
These limited edition vests are on sale now via Glastonbury's official online shop, with all proceeds going to War Child's Emergency Fund– helping children in Ukraine and other conflicts.
General recap:
Although the full Glastonbury 2022 line-up including the set times breakdown was revealed last month (30th May), posters for dedicated stages and attractions have continued to be shared on social media as well as on the official Glastonbury website.
Strummerville revealed its line-up poster on the 31st of May, while new Beat Hotel replacement, San Remo, dropped the news on the 1st of June – just hours before Pilton Palais.
Block9 was the seventeenth area to announce its individual line-up poster (on the 27th of May) for this year's Festival.
Cineramageddon announced its individual line-up poster on the 25th of May, while West Holts revealed its lineup poster on the 24th of May – and Unfairground theirs on the 20th of May, just one day after The Park area which came on the 19th of May.
The Kidzfield revelation came on the 16th of May, just three days after Croissant Neuf's on the 13th, and followed announcements from Acoustic Stage and The Glade – on the 12th and the 11th of the month, respectively.
Late-night areas The Common and – Shangri-La also released their line-ups, on the 6th and the 4th of May, respectively. In addition to the Left Field line-up that was revealed on Tuesday morning, the 3rd of May.
Other key stories from last month's string of announcements included confirmation that Arcadia's iconic fire-breathing Spider will be returning to the Festival in 2022 – following planning issues with the Pangea crane, which had replaced the Spider in 2019 but will not be featured at this year's event.
The Arcadia news came bundled with its own line-up poster, after posters from Theatre & Circus Fields, Glasto Latino, and former Dance Village Silver Haye had also been revealed earlier that week.
And finally, Field of Avalon was the first area to announce its dedicated line-up poster for 2022 on Tuesday, the 12th of April.
2022 will be the first year to see Glastonbury take place since 2019, after two consecutive cancellations due to the coronavirus crisis – both in 2020 and 2021.
Meanwhile, the first main line-up announcement poster revelation, shown below, dropped in March of this year.
As seen in the poster above, Paul McCartney and Kendrick Lamar will be joining previously announced headliner Billie Eilish to top the bill at this year's event.
Eilish will be playing the Pyramid Stage on the Friday night – and by doing so make history as the youngest ever solo artist to headline the Festival at only 20-years-old.
Another historic moment will occur when Sir Paul McCartney takes to the Pyramid Stage on the Saturday night – which will subsequently make him the oldest Glastonbury headliner at 80-years-old.
Diana Ross will likewise be performing on the Pyramid Stage for the Sunday Teatime Legends Slot, while Lamar will be headlining the same stage later that evening.
Glastonbury 2022 is set to take place at its natural home in Worthy Farm, Pilton, Somerset, from Wednesday 22nd to Sunday 26th June.
Although tickets for the 2022 Festival have now completely sold out, there are still ways to go to Glasto this summer, with one of those ways being entering competitions.
To view our consolidated list of all the currently running competitions for the chance of winning tickets to this year's Glastonbury Festival, click here.
DON'T BE FOOLED:
Glastonbury Festival would very much like fans to be aware that there are people out there who will try and sell fake Glastonbury tickets to unsuspecting, willing and innocent potential purchasers.
Although Glasto-veterans who have been going to the Festival for quite some time may recognise these scams for what they are, newcomers to the Festival might not know that tickets are only sold on one site which is: glastonbury.seetickets.com – and any other site claiming to sell tickets for the Festival are not authentic.