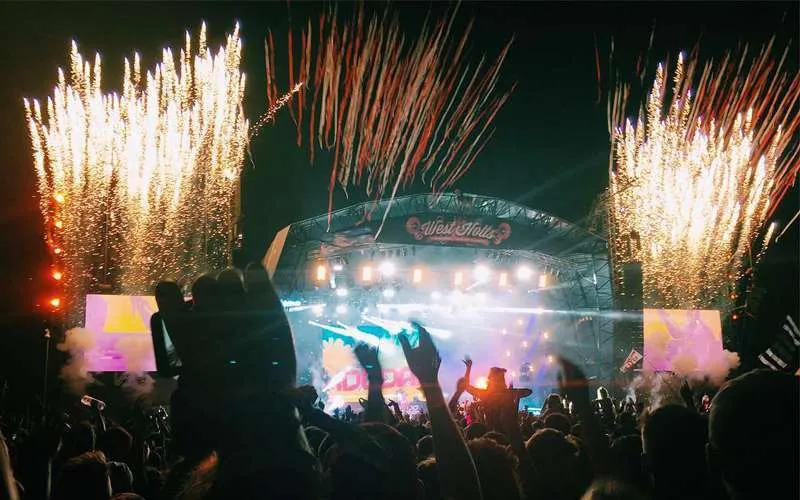 West Holts Stage • Credit: Jake Haseldine
Along with Kelis, Loyle Carner and Rudimental who will headline the iconic stage this year, West Holts will also be showcasing some legendary female artists – including Beth Orton and Candi Staton who will be performing as part of her farewell tour.
The West Holts Stage is the first area to reveal its individual line-up for Glastonbury 2023.
Announcing the news this afternoon (Tuesday, 14th March) at 4PM via social media, Glastonbury officials said: "For the first of our Glastonbury 2023 area announcements, here's the amazing West Holts line-up for this year's Festival!"
The dedicated area line-up poster (seen below) adds 15 new names to the ever-growing Glastonbury 2023 bill after the first main line-up poster was revealed by Festival organisers earlier this month.
Although there have been a number of earlier (incomplete) area announcements in the past, including one by Silver Hayes (formerly Dance Village) on the 22nd of February in 2013 (which only included 9 acts and no poster), this is the earliest Glastonbury Festival has revealed a full individual area line-up poster – with the previous earliest poster revelation being the Kidzfield on 12th of April 2016.
Last year, West Holts revealed its area poster on the 24th of May, while 2019 saw the revelation come forth on the 7th of May.
With only less than 100 days to go until Glastonbury opens its gates for this summer's event, we can expect more individual areas and stages to announce their dedicated line-ups over the coming weeks in the buildup to this year's Festival.
Formerly known as the Jazz World Stage, The West Holts Stage made its debut at the 2010 edition of Glastonbury and is now one of the major venues at the Festival. Its name is derived from Worthy Farm's early dairy days and refers to a "halt" or a gate where cows could cross the railway line.
The official Glastonbury website describes West Holts as: "A place to catch some of the most lauded names in jazz, electronica, reggae, R&B, rap and beyond. At night it's generally party central but the days offer a finely curated mix of acts that swings from the familiar to the far out.
"It's not just the music that pulls people to West Holts though. The field always has a great vibe assisted by a couple of choice bars and some of the best food stalls on site. We also have to thank the WH DJ's Dave Smeaton, Ben Dubuisson and Florence Bird and our brilliant comperes, Jasmine Ketibuah-Foley & Radio 1's Arielle Free."
Steve Symons, West Holts Stage Programmer said: "West Holts looks set to deliver another cornucopia of globally sourced grooves for our 2023 edition. Reggae legends Third World and Barrington Levy will appear alongside cutting-edge R&B from Sudan Archives and Yaya Bey.
From Mongolia, we'll be welcoming the folk-metal band The Hu, whose astonishing vocals arise from their native tradition of throat-singing. In contrast, South Korea's ADG7 bring together shamanism, exotic instrumentation and a huge amount of charm for some highly alternative K-pop.
From Africa, Congolese legend Kanda Bongo Man will feature alongside the Star Feminine Band. The latter, are a group of schoolgirls from a remote area of northern Benin who have overcome incredible odds to bring their music to the world. Their joyful mix of highlife and Congolese rumba underpin righteous lyrics that demand social justice for girls and women."
"The stage is all about great live performers and so we're delighted to welcome acclaimed acts such as Young Fathers, Ezra Collective and Gabriels whose WH set is rumoured to feature golden leopards.
"Jacob Collier who's worked with everyone from Coldplay to Stormzy, is a musical polymath who delights audiences by turning them into a beautifully harmonious choir. Another artist who's collaborated with Collier is the hugely charismatic Mahalia who takes the penultimate slot on Saturday.
London's febrile music scene continues to throw out all kinds of creative collaborations. At the centre of this lies Speakers Corner Quartet who will be joined by Kae Tempest, Tirzah, Shabaka Hutchings and many more as a kind of South London super-group. Also hailing from this neck of the woods, Black Country, New Road will make their Glastonbury debut.
"We'll be showcasing some legendary female artists from Beth Orton to Candi Staton who will be performing as part of her farewell tour. Kelis has earned her spot at the top by releasing certified bangers for over twenty years. The party vibe will continue across the headline slots with Rudimental and the great Loyle Carner."
OTHER 2023 LINE-UP NEWS
Earlier this month, Arctic Monkeys and Guns N' Roses were officially announced as the two other headliners to join already confirmed Sunday night headliner Elton John on the Glastonbury 2023 line-up and will take to the Pyramid Stage on the Friday and Saturday nights of this year's Festival (respectively).
As mentioned above, the Glastonbury 2023 first line-up poster was shared via the Festival's official Twitter account on Friday morning the 3rd of March at 9:32am – about half an hour after the initial Guardian article detailing the names on the line-up was published.
When published, the original article featured 55 artists on the list, however, it was then amended to omit one of the acts on the line-up in Queens of the Stone Age – explaining: "This article was updated on Friday 3 March to remove the description of the headliners as "all-white", as Guns N' Roses feature two non-white members. The number of announced artists was also reduced from 55 to 54 after an artist had been wrongly included in the initial lineup by Glastonbury organisers."
Other acts to perform at this summer's Festival include Lana Del Rey, Lewis Capaldi, and Lizzo – as well as Yusuf / Cat Stevens, who will take to the iconic Pyramid Stage as this year's Sunday teatime Legend Slot performer.
In regards to self-confirmations; post-punk band Shame confirmed they'll be playing the Pilton-held event after revealing the news in a Reddit Q&A.
Kelly Jones of Stereophonics also announced that he will be performing at Glastonbury this summer with his new project Far From Saints, as well as Gabrielle Aplin, who likewise confirmed she will be playing the Avalon Stage at this year's Festival.
Stay up to date with all the latest acts that have been confirmed, self-confirmed, rumoured or are unlikely to appear on the Glastonbury 2023 Festival line-up – as well as every Glasto-shaped hole, gap and crack so far – via our daily updated line-up & rumours list.
2023 RUMOURS ROUNDUP
In other rumours news, Florance & the Machine re-ignited hopes in fans for a potential performance at this year's Festival, after leaving plenty of room for a Glasto gig in their summer tour dates, in addition to Pulp, who likewise revealed the dates of their summer reunion tour while also leaving a space to fit in a possible Glastonbury performance this year.
Another act which has a gaping Glasto-shaped gap in their recently announced tour schedule is Kraftwerk, who confirmed they'll be active in the summer by announcing two new shows in Ireland, scheduled for the end of June – leaving them wide open for a possible gig at Glastonbury Festival, which is set to take place earlier that month.
Red Hot Chili Peppers' Flea got fans pondering about Glasto after retweeting a sketch of the Pyramid Stage created by renowned artist Stanley Donwood, and The 1975 are also mentioned once again in the Glastonbury context after speculation started building throughout the web when the Cheshire band confirmed new tour dates which featured the infamous Glastonbury-shaped hole.
Another band who was rumoured for a slot on this year's line-up but now looks unlikely to appear at Glastonbury 2023 is Britpop legends Blur, whose drummer recently went on record to say they haven't been asked to play this year.
Orbital have also been crossed off the list for a performance at this year's Festival after the electronic legends recently said they won't be at Glastonbury 2023, but said "maybe [they'll be back] next year, in 2024.
Meanwhile, addressing some of the recurring rumours in regards to the Spice Girls, Glastonbury organiser Emily Eavis denied that the pop group would appear at this year's Festival, saying: "That is not a conversation we're having at the moment," but added that Melanie C would perform solo.
2023 SITE UPDATES & CHANGES
Vodafone has announced a multi-year partnership with Glastonbury as the 'Festival's Official Connectivity Partner' and will be replacing EE, which up until 2022 was Glastonbury's technology partner for the seventh year running.
Emily Eavis confirmed the renaming of the John Peel Stage to Woodsies, as well as adding a new family-orientated area of the same name which will feature a campfire.
Children will not be allowed in the notorious after-hours south-east corner (also known as the 'naughty corner') after 10pm and will be encouraged to seek out child-friendly areas across the site such as the Theatre & Circus Fields, and the campfire in the new Woodsies area.
MORE GLASTONBURY NEWS
In other news, Glastonbury Festival in collaboration with Oxfam managed to raise more than £1 million for the Disasters Emergency Committee (DEC)'s appeal to help communities impacted by the Turkey and Syria earthquakes.
The appeal, which came in the form of a raffle, gave participants the opportunity to win one of 10 pairs of tickets donated by the Festival to its sold-out 2023 event, each including a once-in-a-lifetime experience – such as the chance to watch a band from the side of the legendary Pyramid Stage or introduce an act on The Park Stage.
The appeal managed to raise more than £320,000 just 12 hours after launching on the 15th of February, rapidly increasing to £550,000 only 24 hours later and finally smashing its updated target of £1 million on Monday evening, the 6th of March.
The prize draw concluded at noon on the 8th of March raising a sum total of £1,044,130 from 46,390 supporters, with the draw set to take place on the 15th of March and winners notified by email and/or first-class post within 5 days of the draw date.
Prior to the Oxfam raffle mentioned above, the Festival also helped raise over £116,000 in aid of the Trussell Trust in a partnership auction to help support people facing hardship across the UK.
The money was put up in a series of 10 eBay auctions run by the food bank charity to raise funds for their network of over 1,300 food banks scattered across the country.
In this instance, similar to the Oxfam appeal, auctions offered 10 pairs of tickets which included once-in-a-lifetime opportunities for fans at the Festival.
The total from all ten Trussell Trust auctions amounted to £116,738 – with the "cheapest" pair of tickets selling for £10,200, which included the chance to watch a set from the Other Stage viewing platform.
Glastonbury 2023 takes place from Wednesday 21st to Sunday 25th of June 2023 at Worthy Farm, Pilton, Somerset.
Although tickets for the 2023 event sold out late last year [2022], there will be resales of any unpaid and/or cancelled tickets that will take place later in the Spring (around April time).
As part of Glastonbury's ongoing efforts against ticket touting, anyone who would like to attend this year's Festival will need to have registered in advance.
As in previous years, registration remains free of charge and only takes a few minutes at glastonburyregistration.co.uk.
Those who have already registered in the past can also check their existing registration here.
In addition to the upcoming ticket resales, some other opportunities for getting to Glastonbury include working at the Festival, volunteering and entering competitions – once these options make themselves available.
To learn more about registration, the sale process and how you can maximise your chances of getting Glastonbury 2023 tickets, click here.
DON'T BE FOOLED
Glastonbury Festival would very much like fans to be aware that there are people out there who will try and sell fake Glastonbury tickets to unsuspecting, willing and innocent potential purchasers.
Although Glasto-veterans who have been going to the Festival for quite some time may recognise these scams for what they are, newcomers might not.
Therefore, please remember that tickets are only sold on one site, which is: glastonbury.seetickets.com.