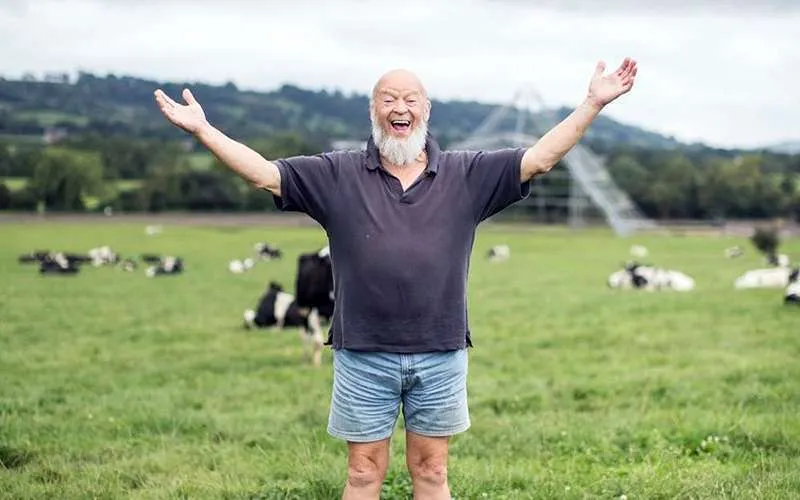 Photo Credit: Bolder
The founder of the world-famous Glastonbury Festival has been made a 'Freeman of Glastonbury'
Glastonbury Town Council has voted unanimously to honour Michael Eavis CBE.
Mr. Eavis was nominated by Mayor of Glastonbury, Councillor Jon Cousins, and deputy mayor, Councillor Serena Roney-Dougal, in appreciation of his services to the town and the local economy.
Born in 1935, the celebrated dairy farmer held his first Glastonbury Festival at Worthy Farm, Pilton in 1970 (known back then as the Pilton Pop, Blues & Folk Festival); to then go on and be listed by Time Magazine as one of the top 100 most influential people in the world – half a century later.
Michael Eavis Freeman of #Glastonbury
"Can think of no one more fitting of receiving this honour
An opportunity to acknowledge that, as founder of @glastonbury Festival, he has helped to promote Glastonbury for over 50 years – nationally & internationally"https://t.co/iKFo3RGF2G pic.twitter.com/1Rjj2xjZ4X

— Jon Cousins 🇺🇦 (@jonfcousins) March 28, 2022
Following the Freeman vote, Cllr. Cousins said: "I can think of no one more fitting of receiving this honour.
"This is an opportunity to acknowledge that, as founder of the Glastonbury Festival, Michael has helped to promote Glastonbury for over 50 years, both nationally and internationally – a true lifetime's work."
Cllr. Roney-Dougal added: "The festival makes a significant contribution to our local economy, as well as providing year-round employment locally and support for many local organisations, community groups, and charitable causes – and, on an international scale, raising money for such truly worthy causes as Oxfam, WaterAid, Greenpeace, and CND.
"Our town's high regard for Michael is clearly shared by others throughout the country and establishment.
"He has received Honorary Degrees from the Universities of Bath and Bristol, an Honorary MA from the University of Creative Arts, and, in 2007, he was appointed CBE for his services to music in The Queen's Birthday Honours."
Meanwhile, Speaking about the highly anticipated upcoming Festival earlier this year, Eavis discusses plans for Glastonbury 2022, the return of director Melvin Benn, Foo Fighters (and the cancelled September event in 2021), COVID, cheese, the future of the Festival and more.
Earlier this month Glastonbury revealed its first big line-up announcement poster of the acts who will be playing at the Festival this year.
It has now been officially confirmed that Paul McCartney and Kendrick Lamar will be joining previously announced headliner Billie Eilish and top the bill at this year's event when it finally returns for the first time since 2019, after two consecutive cancellations due to the coronavirus crisis.
Eilish will be playing the Pyramid Stage on the Friday night – and by doing so make history as the youngest ever solo artist to headline the Festival at only 20-years-old.
Another historic moment will occur when Sir Paul McCartney takes to the Pyramid Stage on the Saturday night, which will subsequently make him the oldest Glastonbury headliner at 80-years-old.
Diana Ross will likewise be performing on the Pyramid Stage for the Sunday Teatime Legends Slot, while Lamar will be headlining the same stage later in the day.
Although the recent poster revelation added more than 70 acts to the 2022 bill, this year's Festival announcements are far from over.
There are lots more performers and attractions wanting in the pipeline to be announced – before the full line-up plus times will finally drop around June time – as recently confirmed by Glastonbury organiser Emily Eavis.
That said, there are many artists who confirm themselves prior to the official announcements by divulging the news during interviews, via social media or website listings.
Some of the recent artists to self-confirm for Glastonubry 2022 include Fatboy Slim, Chris Difford, Carl Cox, Haim, Courtney Barnett, Glastonbury-staple Craig Charles and Black Dyke Band – who said they will be opening the Pyramid Stage on Sunday morning (26 June).
Other acts who have been rumoured to make an appearance at this year's event include Candi Stanton, Brass Against, The Chemical Brothers, Basil Brush, The 1975 and The Lathums.
To view our full constantly updated list of all the latest line-up announcements and rumours, click here.
Glastonbury 2022 is set to take place at its natural home in Worthy Farm, Pilton, Somerset, from Wednesday 22nd to Sunday 26th June.
Although tickets for the 2022 Festival have now completely sold out, there are still ways to go to Glasto this summer.
Some of the opportunities include entering competitions, working at the Festival and volunteering.
DON'T BE FOOLED:
Glastonbury Festival would very much like fans to be aware that there are people out there who will try and sell fake Glastonbury tickets to unsuspecting, willing and innocent potential purchasers.
Although Glasto-veterans who have been going to the Festival for quite some time may recognise these scams for what they are, newcomers to the Festival might not know that tickets are only sold on one site which is: glastonbury.seetickets.com – and any other site claiming to sell tickets for the Festival are not authentic.