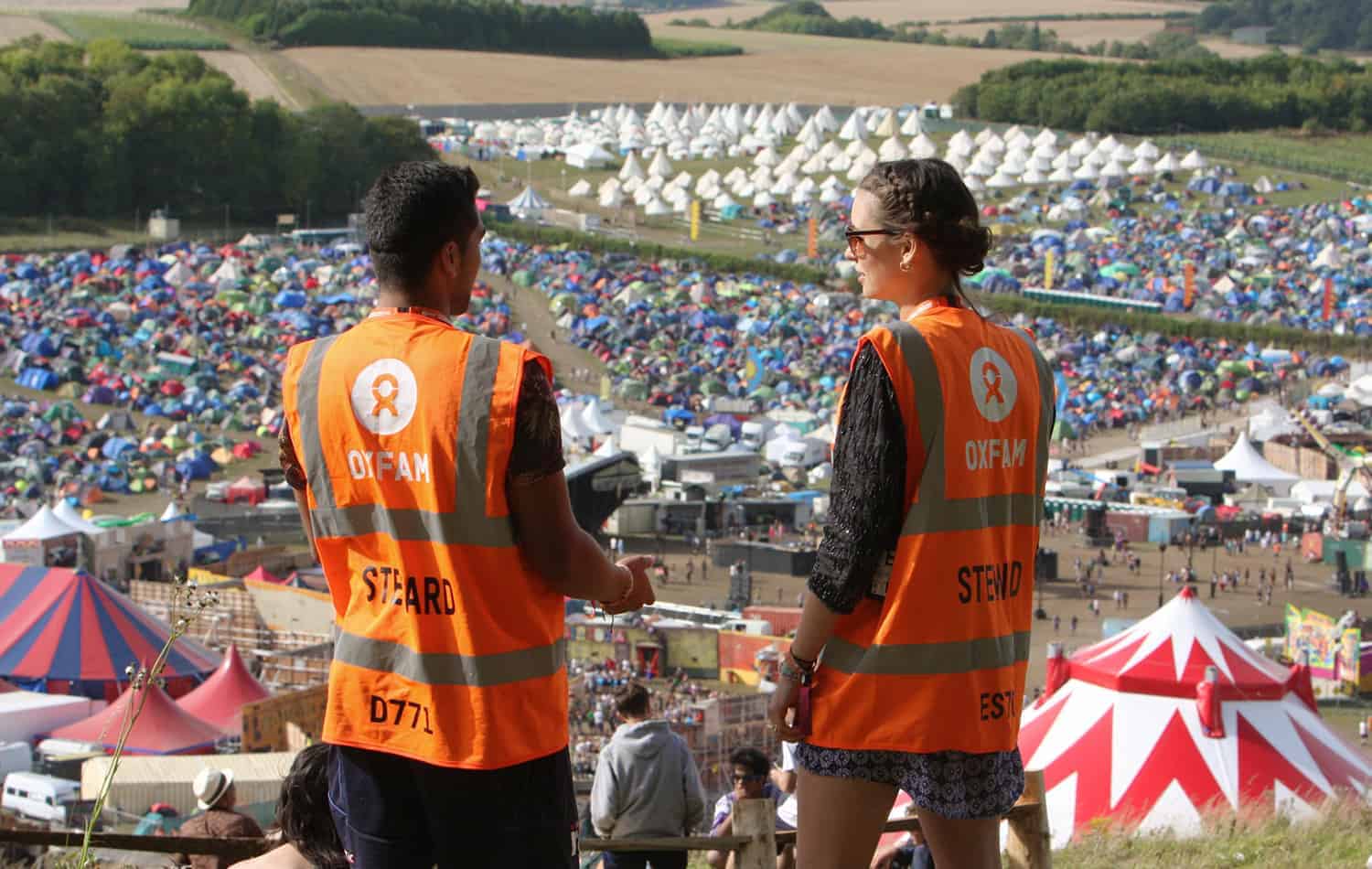 Oxfam
Join Oxfam's volunteering team at Glastonbury's 50th anniversary this summer and gain access to the Festival site for your volunteer role and to enjoy the event
Oxfam will open its Public Stewarding Applications tomorrow (February 4, 2020) at 11:30am, for the opportunity to volunteer at 17 UK music festivals, which apart from Glastonbury Festival also include: 2000 Trees, Bearded Theory, Beautiful Days, Boardmasters, Boomtown Fair, Download, Kendal Calling, Isle of Wight, Latitude, Leeds, The Long Road, NASS, Reading, Shambala, Wilderness, WOMAD.
The charity's Priority Stewarding Application opened last month (January 29) for existing volunteers who've already volunteered with them at other events in the past.
In preparation for Public Applications opening tomorrow (February 4), Oxfam have shared some advice with would-be volunteers and advised anyone applying to take note of the following points:
Create an account / Check your login details at: myfestivals.oxfam.org.uk
Remember: If you Registered Interest this is not the same as creating an account.
Have a card to pay your deposit ready.
Please have patience. The website will be slower than usual due to the amount of traffic.
Confirmation emails may be delayed due to the volume being sent out.
If you can no longer see the festival in the menu after you have applied, then you have reserved your space.
After the opening day Oxfam will open the Profiles for you to fill in your details. They will let you know here when that happens.
You have not secured your position until you complete your profile and get all your green ticks.
Oxfam is one of the leading charities involved with Glastonbury and has been working with them for over 25 years.
The global poverty alleviation charity brings a 2,000+ strong volunteering team to the festival each year.
Roles available:
Though the majority of Oxfam roles available at festivals are stewarding roles which involve providing help on the gates with tickets and wristbands – this could also include, campaigning with the public or helping in the Oxfam Festival Shop.
Campaigners normally complete four daytime shifts, and by doing so leaving every evening free, but unlike stewarding a telephone interview is required.
The Oxfam Festival Shop hits the road each summer, stocked with some of the charity's best clothing gems.
Applications to volunteer in the Oxfam's shop are only open to previous festival shop volunteers, or existing Oxfam high-street shop volunteers or staff.
Shop and Campaign applications will open on 11th Feb.
Shifts, requirements and patterns:
Oxfam's volunteer stewards usually work 3 x 8-hour-long shifts over a period of 5 days (Wednesday – Sunday). Stewards may request the same shift patterns as their friends by naming up to five people on their application.
Volunteers must be 18 years of age and must complete a training session before their first event, either online or in person.
Date/time required on site:
Like most festival crew, Oxfam volunteers are usually required to arrive on-site the day before the event opens to the public and bring their own tent and camping supplies.
Deposit:
Volunteers are required to pay a deposit of £265 – equal to a Glastonbury ticket price in 2020 – which is returned after all shifts are completed to a satisfactory standard. Anyone applying for multiple festivals only pays one deposit, matching the ticket price of the most expensive festival selected.
Perks:
Volunteers get free access to the festival, and a meal voucher for every shift worked, in addition to also having their own campsite with its own toilets and hot showers, plus tea, coffee, hot water, and phone charging.
For more info please visit Oxfam's Glastonbury 2020 page / FAQ's page.
Also, feel free to check out Oxfam's 'Festivals Chat' Facebook group which as of the time of writing boasts over 24,000 members and is monitored by both long-term volunteers and Oxfam staff.
You can also find Oxfam Festivals on Facebook, Twitter and Instagram.
Despite the fact that the full line-up for Glastonbury 2020 has yet to be released – all tickets for the Festival's 50th anniversary have now sold out, with General Admission tickets selling out in 33 minutes, following Coach + Ticket Packages which sold out in just 27 minutes.
There are still ways to go to Glastonbury this year, and in addition to being able to volunteer – there will also be a resale of any cancelled tickets in the spring, with coach + ticket packages going up for resale on April 16 – followed by a general admission tickets resale on April 19.
Glastonbury 2020 will take place at Worthy Farm, Pilton, Somerset – from Wednesday 24th to Sunday 28th June.