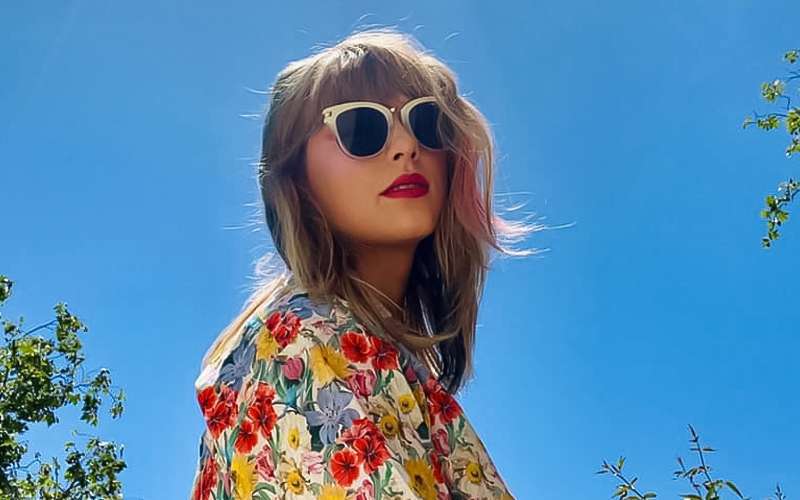 Taylor Swift • Credit: FB
Due to a tight tour schedule, the likelihood of the American star making it in time for a headline slot at the Worthy Farm event next summer is highly improbable
Taylor Swift announced Tuesday afternoon (1st October) her long-rumoured return to the road, with an outing dubbed the "Eras Tour" scheduled to hit U.S. stadiums beginning in March 2023 and running into August, with international dates set to be revealed later.
Rumours have been circling the web that Swift might be one of the headliners set for a performance at Glastonbury 2023 when it returns next summer, after the American star was confirmed to headline the Festival back in 2020 – before it was forced to cancel for two consecutive years due to the worldwide pandemic.
I'm ecstatic to tell you that I'll be headlining Glastonbury on its 50th anniversary – See you there! 💋 pic.twitter.com/2gJ40mEiDH

— Taylor Swift (@taylorswift13) December 15, 2019
The singer said in 2020: "I wanted to ­perform in places I hadn't performed in as much, do things I hadn't done — like Glastonbury. I haven't done festivals, really, since early in my career.
"They're fun and bring people together in a really cool way. It's so sad. But I know it's the right decision."
Now, however, chances of Taylor Swift playing the Worthy Farm event in 2023 seem rather unlikely, after revealing the dates for her U.S. stadiums tour – as seen below.
The tour starts on 18th March 2023 in what is apparently a favourite spot for Swift, Glendale, AZ, which is the same place her last outing – the pre-pandemic "Reputation" tour – began in 2018.
The U.S. leg wraps up four and a half months later on 5th August 2023, with two nights at L.A.'s SoFi Stadium — the venue she was set to open as a concert venue in 2020 with the cancelled "Lover Fest" mini-tour.
Swift described the tour as "a journey through the musical eras of my career (past and present!)," with a graphic showing her look from different phases of her career.
Although at first glance there does appear to be a Glasto-gap in Swift's tour dates – making it theoretically possible for her to play the Glastonbury Sunday (25th June) – it would mean she would have to first perform at her scheduled US date on Saturday the 24th (Pittsburgh, PA Acrisure Stadium) and then fly straight from the US on Sunday morning to make it in time to the UK, for what would inevitably be a very jet-lagged Glastonbury Sunday gig.
Speaking of trying to make it in the nick of time to a Glasto-gig, all one has to do is look back at what happened with Wolf Alice when they almost missed their Pyramid Stage slot due to a flight delay earlier this year at Glastonbury 2022.
According to reports from earlier this year, the 32-year-old had "politely declined" the chance to take to the Pyramid Stage at the last edition of the Festival in 2022, but said performing at Worthy Farm is still "on her bucket list".
The insider was quoted saying at the time: "Taylor politely declined when she was approached because the timing just isn't right at the moment. Of course, she would absolutely love to headline at some point. It is still on her bucket list but performing isn't her priority right now."
In other Glasto news
Pulp announced the dates of their reunion tour scheduled for next summer, leaving plenty of room for a Glastonbury performance, while Victoria Beckham ruled out a Glastonbury appearance as part of a Spice Girls reunion – following long-time speculation fuelled by her former band mates.
As with every Glastonbury-year, the speculation about who might play the legendary festival is always very high, and with the 2023 event fast approaching, the Glasto Rumour Mill is already spinning in full force.
Although the first line-up poster doesn't usually get revealed until the beginning of March, followed by the full line-up announcement sometime at the end of May – there are many artists who 'self-confirm' prior to the official announcements by divulging the news via interviews, social media or website listings to accompany the ever-growing rumours.
Some of the recent big-name acts to be rumoured for a possible performance at Glastonbury 2023 include;
Roxy Music –
Whispers of a possible Glastonbury performance started circling the web last month, after a couple of posts were published on the eFestivals forums website, pertaining to some apparent inside information "from a very reliable source", saying that Roxy Music are set to play the Legends Slot at Glastonbury 2023.
Arctic Monkeys –
The Sheffield-formed band are rumoured to have signed on "the dotted line" for a deal to headline Glastonbury 2023 after their UK tour sold out in mere minutes, once going up for sale in October.
Guns N' Roses –
The hard American rockers are also one of the bands currently rumoured for playing Glastonbury 2023 after Festival organiser Emily Eavis said in an interview last year that the band need to play the Worthy Farm event at some point.
Elton John –
Having never played at Worthy Farm before, Sir Elton John has long been rumoured for a performance at Glastonbury Festival, and some changes to his current 'Yellow Brick Road' tour schedule just happens to reflect a perfectly-sized Glasto-shaped-gap.
Eminem –
The American rapper – who is yet another name to have never played at Glastonbury before – was reported to be in "advanced talks" to headline the iconic Pyramid Stage at Glastonbury next summer.
Glastonbury organiser Emily Eavis did however say earlier this year that all three headliners for the 2023 Festival have already been booked.
Therefore, despite the insider claiming Eminem's tour dates align with a potential Glastonbury appearance, the rapper has yet to currently announce any upcoming gigs, suggesting the source either has access to unreleased information or is outright mistaken.
You can follow and stay up to date with all the latest artists that have confirmed, self-confirmed or rumoured for Glastonbury 2023 in our constantly updated list, by clicking here.
Elsewhere, as of the time of publication, current SkyBet odds for Glastonbury Festival 2023 headliner are as follows:
| | |
| --- | --- |
| Arctic Monkeys | 1/10 |
| Guns n Roses | 1/5 |
| Elton John | 1/2 |
| Dua Lipa | 4/1 |
| Pulp | 4/1 |
| Rihanna | 4/1 |
| Eminem | 5/1 |
| Florence And The Machine | 5/1 |
| Harry Styles | 5/1 |
| Taylor Swift | 7/1 |
Glastonbury 2023 tickets & dates
Glastonbury 2023 will take place at its natural home in Worthy Farm, Pilton, Somerset, from Wednesday the 21st to Sunday the 25th of June.
Tickets to the 2023 Festival will go up for grabs one month later than usual this year and have been confirmed to be split into two separate days.
Coach + Ticket Packages will go on sale at 6pm GMT on Thursday, 3rd November, before General Admission tickets go on sale at 9am GMT on Sunday, 6th November.
Tickets will cost £335 + £5 booking fee, of which a £50 deposit is payable when booking in November, with the balance payable in the first week of April 2023.
Please keep in mind that if you are booking a Coach + Ticket Package, you'll also need to add the coach fare, as detailed in the table here.
These initial sales will then be followed by a resale of any unpaid and/or cancelled tickets sometime in the Spring of 2023 (around April time).
As part of Glastonbury's ongoing efforts against ticket touting, anyone who would like to attend next year's Festival will need to have registered in advance.
As in previous years, registration remains free of charge and only takes a few minutes at glastonburyregistration.co.uk.
Those who have already registered in the past can also check their existing registration here.
Please note that registration closed at 5pm GMT on Monday, 31st October, and as of this moment in time, there is no opportunity to submit/re-submit a registration until after the November ticket sales.
In addition to the ticket sales, some other opportunities for getting to Glastonbury include entering competitions, working at the Festival and volunteering – once those options make themselves available.
To learn more about registration, the sale process and how you can maximise your chances of getting Glastonbury 2023 tickets, click here.
Don't be fooled
Glastonbury Festival would very much like fans to be aware that there are people out there who will try and sell fake Glastonbury tickets to unsuspecting, willing and innocent potential purchasers.
Although Glasto-veterans who have been going to the Festival for quite some time may recognise these scams for what they are, newcomers might not.
Therefore, please remember that tickets are only sold on one site, which is:
glastonbury.seetickets.com –
any other site claiming to sell tickets for the Festival is not authentic.