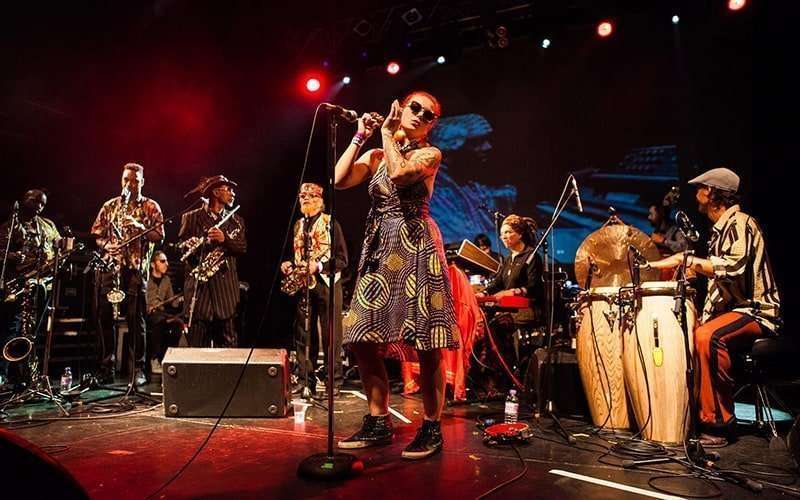 The Heliocentrics
The London-based musical collective will play Shangri-La at Glastonbury's 50th anniversary this June
The Heliocentrics have self-confirmed for playing Glastonbury 2020 this summer.
The London-based jazz fusion outfit confirmed the news on BBC 6 Music earlier today (February 25), saying that they will be playing Glastonbury's Shangri-La this June – stage TBC.
Advertisement


Asked by Tom Ravenscroft (who sat in for Shaun Keaveny) whether the collective have any tour plans for the summer [2020], the band replied: "Yeah, we're down to play Glastonbury, Shangri-La…"
The psychedelic-funk ensemble have just released their new album titled 'Infinity of Now' via Madlib Invazion.
The Heliocentrics made a ripple with their appearance on DJ Shadow's 2006, The Outsider – along with their own heavily instrumental works, they've produced lengthy collaborations with such legends as Melvin van Peebles, Mulatu Astatke, Lloyd Miller and Orlando Julius, and created the score for the LSD documentary The Sunshine Makers in 2017.
The full interview is now available to listen to on BBC Sounds (for the next 29 days) – They mention Glastonbury at around the 2:13:53 time-mark.
Advertisement


Meanwhile, Lana Del Rey was the 4th act to be officially confirmed for playing Glastonbury later this summer and joins Taylor Swift who was the second headliner and third artist to be announced for the 2020 edition of the Festival – after Paul McCartney, and Diana Ross who was officially confirmed earlier last year as Glastonbury's 50-anniversary 'Legends' slot performer.
Also confirmed for the bill are Wolf Alice who were announced as playing Glastonbury's big 5-0 by non-other than Glasto founder, Michael Eavis himself.
Mike Skinner, Carl Cox, Fun Lovin' Criminals,  Crowded House, Clairo and most recently Burna Boy are the latest big-scale artists to self-confirm for the Festival's 2020 bill thus far.
Despite the fact that the full line-up for Glastonbury 2020 has yet to be released – all tickets for the Festival's 50th anniversary have now sold out, with General Admission tickets selling out in 33 minutes, following Coach + Ticket Packages which sold out in just 27 minutes.
There are still ways to go to Glastonbury this year, and in addition to being able to volunteer or enter the various competitions – there will also be a resale of any cancelled tickets in the spring, with coach + ticket packages going up for resale on April 16 – followed by a general admission tickets resale on April 19.
Glastonbury 2020 will take place at Worthy Farm, Pilton, Somerset – from Wednesday 24th to Sunday 28th June.
Advertisement