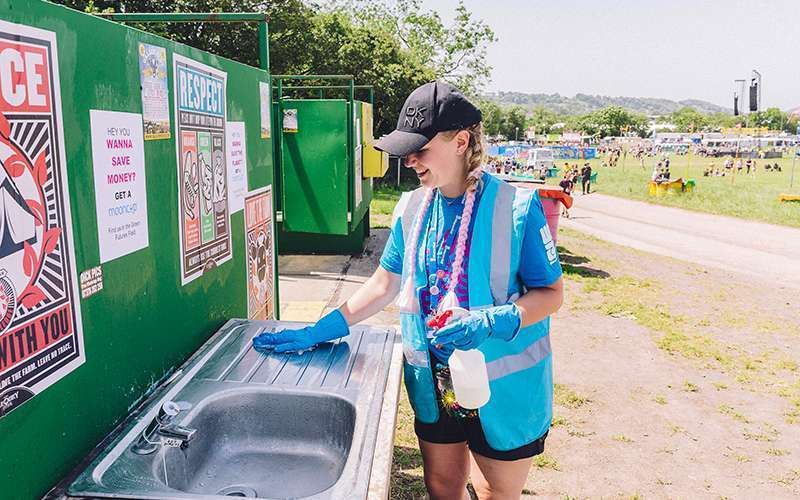 Credit: WaterAid
Everything you need to know about volunteering at Glastonbury 2023 and going to the Festival almost cost-free
Last updated: 25 January
Glastonbury 2023 will take place at its natural home in Worthy Farm, Pilton, Somerset, from Wednesday the 21st to Sunday the 25th of June.
If you've missed out on tickets in the recent sales, do not despair, as there are still ways to get to Worthy Farm next summer – and yes, some even without paying a penny.
One of the best ways to go to Glastonbury for free would be to volunteer with a charity.
This usually entails working 3 x 8-hour shifts over a 5-day period – which is basically the duration of the festival.
What you do with the remainder of your time is up to you, and if that's not enough, volunteers often get access to a private campsite, free meals, and hot showers – yes, you read correctly, we said HOT SHOWERS! At Glasto!
Although you won't have to buy a ticket to the festival, you will, however, be asked to pay a deposit when you sign up to volunteer (more or less equivalent to the ticket price) which you will get back when you follow the charity's guidelines and complete all your shifts (which in some cases also include some training beforehand).
Below we've compiled a list of most of the charities and volunteering opportunities available at Glastonbury Festival, along with everything you know in regard to shift times, role requirements the application process and much more.
Oxfam
Oxfam is one of the leading charities involved with Glastonbury and has been working with the Festival for over 25 years.
The global poverty alleviation charity brings a 2,000+ strong volunteering team to the festival each year.
Festival volunteering is a fantastic way to attend the event while seeing amazing acts and making new friends – all whilst supporting Oxfam's work to end extreme poverty around the world.
Priority Stewarding applications are usually the first to open for existing volunteers who've already volunteered with Oxfam at other events in the past, followed by Public Stewarding applications which open at a later date.
The Campaigner and Shop volunteer applications process are slightly different from the ones mentioned above, as they are not on a first come first served basis.
Roles:
Though the majority of Oxfam roles available at festivals are stewarding roles, which involve providing help at the gates with tickets and wristbands, this could also include campaigning with the public or helping in the Oxfam Festival Shop.
Campaigners normally complete four daytime shifts and by doing so leave every evening free, but unlike stewarding, as campaigning places are limited, Oxfam needs a demonstration of how you meet the skills and competencies they need (a telephone interview may be required).
The Oxfam Festival Shop hits the road each summer stocked with some of the charity's best clothing gems, with applications normally only open to previous festival shop volunteers, or existing Oxfam high-street shop volunteers or staff.
Shifts:
Steward: 3 x 8-hour-long shifts.

Campaigner: 4 x 6-hour-long shifts (last shift of the day ending at 6pm).

Shop: 5 shifts (1 per day).
Perks:
Volunteers get free access to the festival and a meal voucher for every shift worked, in addition to also having their own campsite with its own toilets and hot showers – plus tea, coffee, hot water, and phone charging.
Steward: £335
Campaigner: £335
Shop: None.
Application requirements:
Steward:
No prior requirements are needed in order to apply.
Campaigner:
In no more than 300 words you'll need to tell Oxfam about one of their past or present campaigns and why you like it. At festivals this year our campaign will focus on climate justice – why do you think this is important?
Record a 3-minute video of yourself: telling Oxfam a bit about yourself, including why you think you'd make a good campaigner, and tell them about something (anything!) that you're passionate about – try and make them love it as much as you!
Shop:
3 months of Oxfam shop experience.
Volunteered at 2 or more Oxfam festival shops in the last 3 years.
Reference from current Oxfam staff.
Application dates:
Priority Status Applications open on the 25th of January.
Public Stewarding Applications open mid-morning on the 1st of February 2023.
Campaigner and Shop application open on 8th February.
Places fill quickly so you best register your interest with Oxfam now in order to be the first to know when applications open.
More info:
Please note that volunteers must be 18 years of age and must complete a training session before their first event, either online or in person.
In order to gain priority for the following year, you must do two festivals with Oxfam.
For more information on priority please visit Oxfam's FAQ page.
To read up on the full application process please check out Oxfam's updated blog here.
Also, feel free to check out Oxfam's 'Festivals Chat' Facebook group which as of the time of writing boasts over 24,000 members and is monitored by both long-term volunteers and Oxfam staff.
Find Oxfam Festivals on Facebook, Twitter and Instagram.
WaterAid
WaterAid will be bringing 700 volunteers to Glastonbury 2023 and has been hand in glove with the Glastonbury Festival since 1994.
Back in 2006 the festival's founder Michael Eavis and his daughter Emily visited WaterAid's work in Mozambique. After that time the number of Wateraid volunteers at Glastonbury Festival kept on growing to a point that by 2016, Wateraid's volunteers for the festival reached over 500 strong.
The charity introduced Talking Toilets which gave out information voiced by celebrities such as Cerys Matthews and Brian Blessed.
Roles:
WaterAid's roles at Glastonbury are split into two teams:
The water Team: Water Welcomers, The Refill Station Team, The WaterAid Stand Team and The Sanitation Team.
The Sanitation Team: Loo Crew, Female Urinals, Good Loos, and Litter Picking.
Note that you won't be able to choose exactly what you do, but you'll be able to highlight your relevant skills and experience on the application form, which will help WaterAid allocate the most suitable role to you.
Shifts:
4 x 6-hour-long shifts (teams are sometimes required to volunteer overnight).
Perks:
Some of the perks of Volunteering with WaterAid include a secure, crew-only campsite, with shower and toilet access. In addition to food vouchers or a food expense allowance, while being able to claim back part of the travel costs – In 2019, volunteers were able to claim up to £35 per person in travel expenses.
Deposit:
£150
Application requirements:
Write a statement about your support for WaterAid.
Application dates:
2023 WaterAid festival volunteer applications open on Tuesday, the 24th of January.
In the meantime, until applications open, you can register your interest in volunteering with WaterAid through this form, make sure to select "festival volunteering".
You will then receive emails with WaterAid's volunteering opportunities including an email when festival volunteering applications open in early 2023.
The charity assesses every application based on relevant skills, experience, and existing support for WaterAid and doesn't allocate places on a first-come-first-served basis, so please take the time to fill in the application form carefully and let them know why you'd make a great addition to their Glastonbury volunteer team.
More info:
For further info and any questions please visit WaterAid's FAQs page / Volunteer at Glastonbury page.
You can also find WaterAid Festivals on Facebook, Twitter and Instagram.
Greenpeace
Alongside Oxfam and WaterAid – being one of Glastonbury's main charities, Greenpeace saw almost 2,000 people sign up as new supporters in 2022.
The Greenpeace Field at the Festival is not just a place for environmental activism, but a top-ten Glasto experience and a sanctuary that attracts thousands of visitors.
Roles:
Helping out in the Greenpeace Field, as well as the shower crew and stewards.
Shifts:
Normally 5 x 7-hour shifts (max).
Perks:
Private crew camping
Hot showers
Vegetarian or vegan meals
Subsidised travel (maximum of £30)
Great community
Deposit:
Yes.
Application requirements:
Fill in the form.
Application dates:
Applications are taken via an online application form which usually opens around April time.
More info:
For further info and any questions please visit Greenpeace's FAQs page here.
Glastonbury Recycling Crew
If you've been to Glastonbury before, you have probably heard or seen the motto 'Love The Farm, Leave No Trace'. Recycling and sustainability are some of the core values of the festival, and festival-goers are encouraged to recycle where ever possible.
Recyclers & Litter pickers are recruited by the festival itself and you can apply directly to the team on Worthy Farm to have a chance of being included.
If you wish to join the Recycling Team, then you will need a personal recommendation from a previous recycling volunteer. They will need to contact the Recycling Crew office directly in January and provide them with your contact details.
Roles:
Picking up litter and sorting recycling.
Shifts:
Usually 4 x 6-hour shifts.
Perks:
A campsite for volunteers, with showers and toilets + you'll also be given free meals during shifts.
Deposit:
Yes.
Application requirements:
A recommendation from someone already on the Crew.
Those who've previously volunteered in this position before are most likely to be approached first, only then applications are taken from newcomers.
Application dates:
TBC.
More info:
Feel free to check out the Recycling Crew's official Facebook page which as of the time of writing boasts over 5,000 members.
Shelter
Shelter helps millions of people every year struggling with bad housing or homelessness through our advice, support and legal services.
Roles:
Working in a bar, serving drinks to customers.
Shifts:
3 x 8-hour-long shifts.
Perks:
Shelter provides transport to the festival, as well as a campsite for volunteers, with phone charging, tea and coffee, and hot showers. You will also get meal vouchers to use in its catering tent.
Deposit:
£335.
Application requirements:
No previous experience is required.
Application dates:
TBC – likely around February 2023.
In the meantime, you can register your interest over at Shelter's official website.
More Info:
You must use Shelter's coach service to get to the site.
Read more on Shelter's website, Facebook and Twitter pages.
Festaff
The company is involved with over 20 events each year and has over 25,000 people on its database and claims that 90% of the shifts would not clash with the headline acts and that the shifts are usually completed in the first few days before bands really hit the stage.
Start your journey to @glastonbury Festival 2023 today!

Join our volunteer team at two camping events this summer to qualify to be invited to apply for next years festival down Worthy Farm way! 😎🎶🎸🥂🌤️

Applications/Information 👣 https://t.co/CWXPL6AlIe #volunteer pic.twitter.com/1sPPlIfRbc

— Festaff (@Festaff) July 22, 2022
Roles:
Wristbanding.
Gate Steward.
Shifts:
3 x 8-hour-long shifts.
Deposit:
Yes.
Application requirements:
Volunteers who've done 2 Festivals with Festaff in 2022 get priority.
Must volunteer at a second festival in 2023 (apart from Glastonbury).
Application dates:
All other applications (except for Glastonbury 2023) open on the 1st of February 2023 (not processed until March).
All those who worked two camping events in summer 2022 will be sent a unique invite to apply for a place in early March. Then Festaff will look to fill any remaining places – please keep an eye on SM channels for updates and you.
More info:
If you are looking to be part of the Festaff Glastonbury team for 2024 then you will need to work 2 (camping) events with them this summer [2023] to be invited to apply.
For more info visit Festaff's FAQs page / latest news post.
Find Festaff on Facebook, Twitter and Instagram.
The Church Tent
Although not one of the "free" options, The Church Tent at Glastonbury Festival – also known as The Sanctuary Marquee – Consists of a fairly small team of volunteers, made up of people from Somerset and the adjoining counties who want to serve God by serving the Festival; The Church Tent works 24-hours-a-day – open for the duration of the event – in organised shifts, to provide 'sanctuary' for the festival-goers and site staff while offering a warm welcome, space to reflect and a willingness to listen.
During the day, creative activities such as face painting, karaoke and acts of worship take place – as well as providing somewhere to shelter from the weather elements, be it rain, mud, sun or dust.
During the night, safe accommodation is provided in the marquee tent for any Glasto-goers who find themselves lost, disorientated, or need a safe space to sleep.
Roles:
Be a part of the Church at the Festival in community life, worship, prayer and discipleship Give a warm welcome to Festival goers.
Provide shelter and a safe space.
Provide space to reflect.
Provide a listening ear.
Be willing to share what our faith means to us, if asked Have an enjoyable and positive experience.
Shifts:
Shift pattern to be decided but shifts will be no more than 8 hours.
Be available on-site from 5pm, Tuesday 20th June to 1pm, Monday 26th June.
Cost:
Successful applicants are required to make a payment of £80. This donation funds the running of the church and £10 of which be passed to our selected charity for the year.
Application requirements:
Read all the information here and fill in the form.
Each successful applicant will be required to complete online safeguarding training by 30th April 2023.
Application dates:
Applications are now open – please visit The Church at Glastonbury FB group for more info.
Oasis Carnival Club
Oasis Carnival Club is a carnival club based in Frome, Somerset. They recruit workers for stewarding/working on the outside of the festival for people looking to work in exchange for their ticket.
Roles:
Festival stewarding,
Model making,
Face painting
Anything that can make the entry into the festival the best it can be.
Shifts:
3 x 8-hour-long shifts.
Deposit:
Yes.
More info:
In the first instance email us at [email protected] you will then get a confirmation e-mail and full conditions will be sent to successful applicants.
You can find more information by clicking here or emailing: [email protected]
Festival Medical Team
If you have a medical, paramedic or first aid qualifications, you can apply to join Dr Chris Howes' team of volunteers by completing the application on the Festival Medical Services website.
Roles:
Medical services.
Shifts:
Minimum 2x 8-10-hour-long shifts.
Deposit:
?
Application requirements:
Current full registration with the relevant professional body.
Very specific skill requirements.
Application dates:
Ongoing.
Property Lock-Ups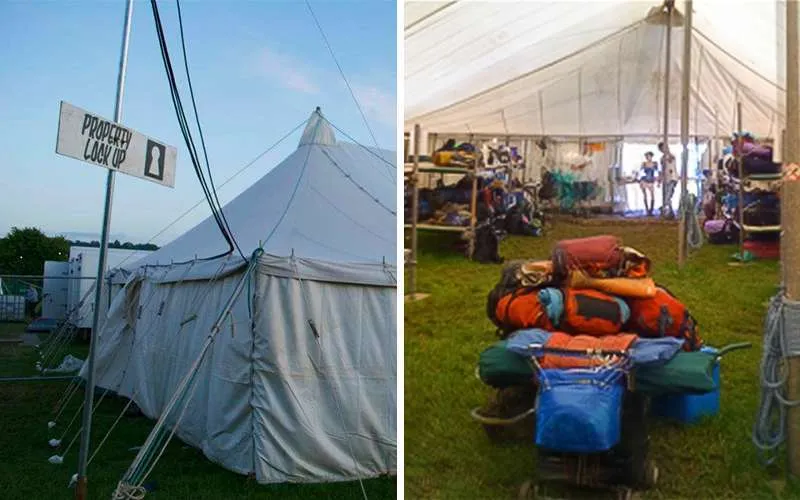 The Property Lock-ups are open 24 hours a day and are free of charge to use. Soap and toilet rolls are also distributed free of charge from the lockups.
These are run by various peace and environmental groups, so if you are a member of such a group, you might wish to check if your local branch is involved.
You can read more about Property Lock-ups here.
Worthy FM
Worthy FM has been the on-site radio station for the Glastonbury Festival since 2007. The presenters and producers are all volunteers and many of them, as a result of their experiences here at the festival, have gone on to proper jobs in the industry.
If you would like to inquire about what their plans are for 2023 and if there are any opportunities to volunteer then click here.
Is there any paid work available at the Festival?
The short answer is, yes. There usually is an opening for the Crew Catering Team.
There's also a select number of positions available in which you can be paid for working at Glastonbury Festival, in addition to opportunities for work experience with the Festival team. These roles usually come and go on very short notice.
To be in with a chance for either opportunity you will need to keep your eyes peeled on the Glastonbury Festival jobs page.
Will there be a resale?
If after reading all the above you'd still rather go to the festival without volunteering or working, and you're happy to pay the full ticket price, then you might still be in with a chance.
Now with both ticket sales out of the way, the next option to purchase tickets to the Pilton event will be when the resale of any unpaid and/or cancelled tickets takes place in the Spring of 2023 (around April time).
As part of Glastonbury's ongoing efforts against ticket touting, anyone who would like to attend next year's Festival will need to have registered in advance.
As in previous years, registration remains free of charge and only takes a few minutes at glastonburyregistration.co.uk.
Those who have already registered in the past can also check their existing registration here.
To learn more about registration, the sale process and how you can maximise your chances of getting Glastonbury 2023 tickets, click here.
Don't be fooled
Glastonbury Festival would very much like fans to be aware that there are people out there who will try and sell fake Glastonbury tickets to unsuspecting, willing and innocent potential purchasers.
Although Glasto-veterans who have been going to the Festival for quite some time may recognise these scams for what they are, newcomers might not.
Therefore, please remember that tickets are only sold on one site, which is:
glastonbury.seetickets.com –
any other site claiming to sell tickets for the Festival is not authentic.