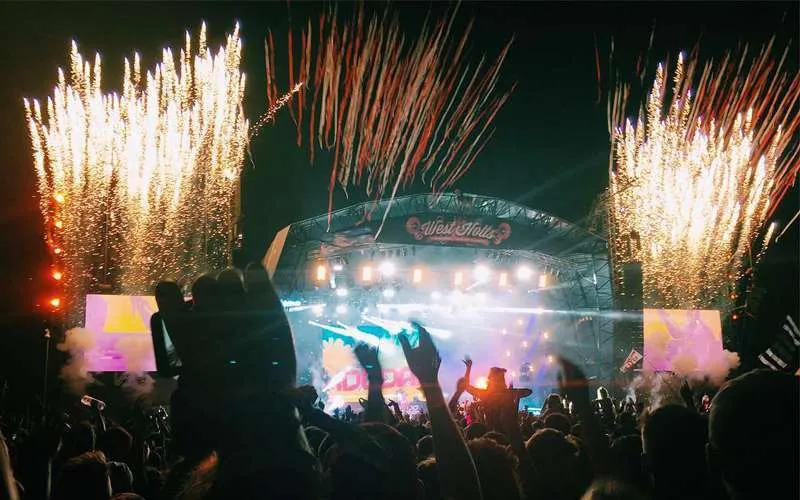 Photo Credit: Jake Haseldine
"Larger than ever" line-up featuring headliners Little Simz, Róisín Murphy, and Bicep.
The West Holts line-up for Glastonbury 2022 has been revealed.
Announcing the news this morning (Tuesday, 24th May) at 10AM via social media, Glastonbury officials said: "The West Holts Stage is back with an incredible line-up for 2022!"
The dedicated line-up poster, seen below, adds even more acts to the ever-growing Glastonbury 2022 bill and is one of the few to detail the full stage's day split breakdown, as opposed to almost all other areas of the festival.
Little Simz, who had already been confirmed as one of West Holts' headliners earlier in the year by Glastonbury organiser Emily Eavis, will take to the stage after Sleaford Mods, TLC and Bonobo on the Friday of the festival (24th June).
Black Midi, Caribou, Celeste and Leon Bridges will all play ahead of headliner Roisin Murphy on the Saturday (25th June), before Bicep's closing set on the Sunday (26th June) is preceded by performances from acts including Nubya Garcia, Emma-Jean Thackray, Koffee and Angélique Kidjo.
The stage statement on Glastonbury's website reads: "West Holts is back, literally larger than ever and ready to take another musical trip through the best weekend of our lives.
"Little Simz made her WH debut in 2016 with little more than an acoustic guitar for accompaniment but now she's a bonafide superstar we're going to see her take it to a whole new level.
"Bicep are bringing the most spectacular production we've ever hosted and will pull off a closing party to remember. Between the two, Roisin Murphy takes the headline slot celebrating over twenty years of dropping bangers in her own uniquely flamboyant style.
Adding: "Alongside the headliners, highlights will include the mesmeric Arooj Aftab and the wild showmanship of Yves Tumor.
"Not only did TLC help invent contemporary R&B and become the best-selling girl group in US history but their lyrics also tackled HIV and sexual harassment.
"Another incredibly influential act is Nightmares On Wax who make their WH debut with a massed collective of 16 musicians.
Finally, we'll be welcoming the queen of African music, Angelique Kidjo who's collaborated with everyone from Burna Boy to Yo-Yo Ma in a history of musical diversity that reflects the soul of West Holts."
Recap:
Glastonbury's individual area announcements have been coming in thick and fast for the last couple of months now.
With West Holts being the fifteenth and most recent area to announce its individual line-up poster for this year's Festival (on the 24th of May), we are now expecting at least three more areas still to come.
Unfairground revealed its line-up on the 20th of May, just one day after The Park area unveiled its poster on the 19th of May.
The Kidzfield revelation came on the 16th of May, just three days after Croissant Neuf's on the 13th, and followed announcements from Acoustic Stage and The Glade – on the 12th and the 11th of the month, respectively.
Late-night areas The Common and – Shangri-La also released their line-ups, on the 6th and the 4th of May, respectively. In addition to the Left Field line-up that was revealed on Tuesday morning, the 3rd of May.
Other key stories from last month's string of announcements included confirmation that Arcadia's iconic fire-breathing Spider will be returning to the Festival in 2022 – following planning issues with the Pangea crane, which had replaced the Spider in 2019 but will not be featured at this year's event.
The Arcadia news came bundled with its own line-up poster, after posters from Theatre & Circus Fields, Glasto Latino, and former Dance Village Silver Haye had also been revealed earlier that week.
And finally, Field of Avalon was the first area to announce its dedicated line-up poster for 2022 on Tuesday, the 12th of April.
2022 will be the first year to see Glastonbury take place since 2019, after two consecutive cancellations due to the coronavirus crisis – both in 2020 and 2021.
Meanwhile, the first main line-up announcement poster revelation, shown below, dropped in March of this year.
As seen in the poster above, Paul McCartney and Kendrick Lamar will be joining previously announced headliner Billie Eilish to top the bill at this year's event.
Eilish will be playing the Pyramid Stage on the Friday night – and by doing so make history as the youngest ever solo artist to headline the Festival at only 20-years-old.
Another historic moment will occur when Sir Paul McCartney takes to the Pyramid Stage on the Saturday night – which will subsequently make him the oldest Glastonbury headliner at 80-years-old.
Diana Ross will likewise be performing on the Pyramid Stage for the Sunday Teatime Legends Slot, while Lamar will be headlining the same stage later that evening.
A platter of performers and attractions which have yet to be announced are still waiting in the pipeline to be revealed before the full line-up + times should finally drop around June time – as recently confirmed on Twitter by Glastonbury organiser Emily Eavis.
That said, there are many artists who confirm themselves prior to the official announcements by divulging the news during interviews, via social media, or website listings.
Some of the artists to self-confirm for Glastonubry 2022 include Go-A, Fatboy Slim, Chris Difford, Carl Cox, Haim, Courtney Barnett, Glastonbury-staple Craig Charles and Black Dyke Band – who said they will be opening the Pyramid Stage on Sunday morning (26 June).
Another exciting announcement of sorts which was revealed earlier this month included the new Glastonbury 2022 map, which featured lots of interesting changes and improvements to the site grounds ahead of the Festival this June.
Glastonbury 2022 is set to take place at its natural home in Worthy Farm, Pilton, Somerset, from Wednesday 22nd to Sunday 26th June.
Although tickets for the 2022 Festival have now completely sold out, there are still ways to go to Glasto this summer – with one of them being entering competitions.
To view our consolidated list of all the currently running competitions for the chance of winning tickets to this year's Glastonbury Festival, click here.
DON'T BE FOOLED:
Glastonbury Festival would very much like fans to be aware that there are people out there who will try and sell fake Glastonbury tickets to unsuspecting, willing and innocent potential purchasers.
Although Glasto-veterans who have been going to the Festival for quite some time may recognise these scams for what they are, newcomers to the Festival might not know that tickets are only sold on one site which is: glastonbury.seetickets.com – and any other site claiming to sell tickets for the Festival are not authentic.